20150529
The Milnesand tornado
After an overnight stay in Liberal (KS) Markus, Karsten, Janek, Stefan and I were headed to New Mexico crossing the Oklahoma and Texas Panhandle on the way. It was May 29th 2015. After a beautiful roadtrip through the Southwest of the USA we found ourselves as a group in the Great Plains for two more weeks of Storm Chasing in Tornado Alley. While it was the first time being in the US for Markus (www.storm-chasing.de) and me, Janek, Karsten and Stefan were our US experienced guides (see their project: SChaPLe) so to say.
After having seen some well-organized storms the days earlier this one would become one for the books.
The Storm Prediction Center in Norman (OK) mentioned a »slight risk«. Ergo: »scattered severe storms possible« for parts of New Mexico, Texas and Oklahoma with a 2% tornado probability in the area shown in the right picture. Image Source: spc.noaa.gov/
1:27 pm. Arriving in New Mexico with a view on Stratocumulus floccus (Sc flo) – the low cloud layer – as an indication of instability. After a tasty lunch break at the Annex Bar and Grill in Logan, NM we continued our ride further southwest.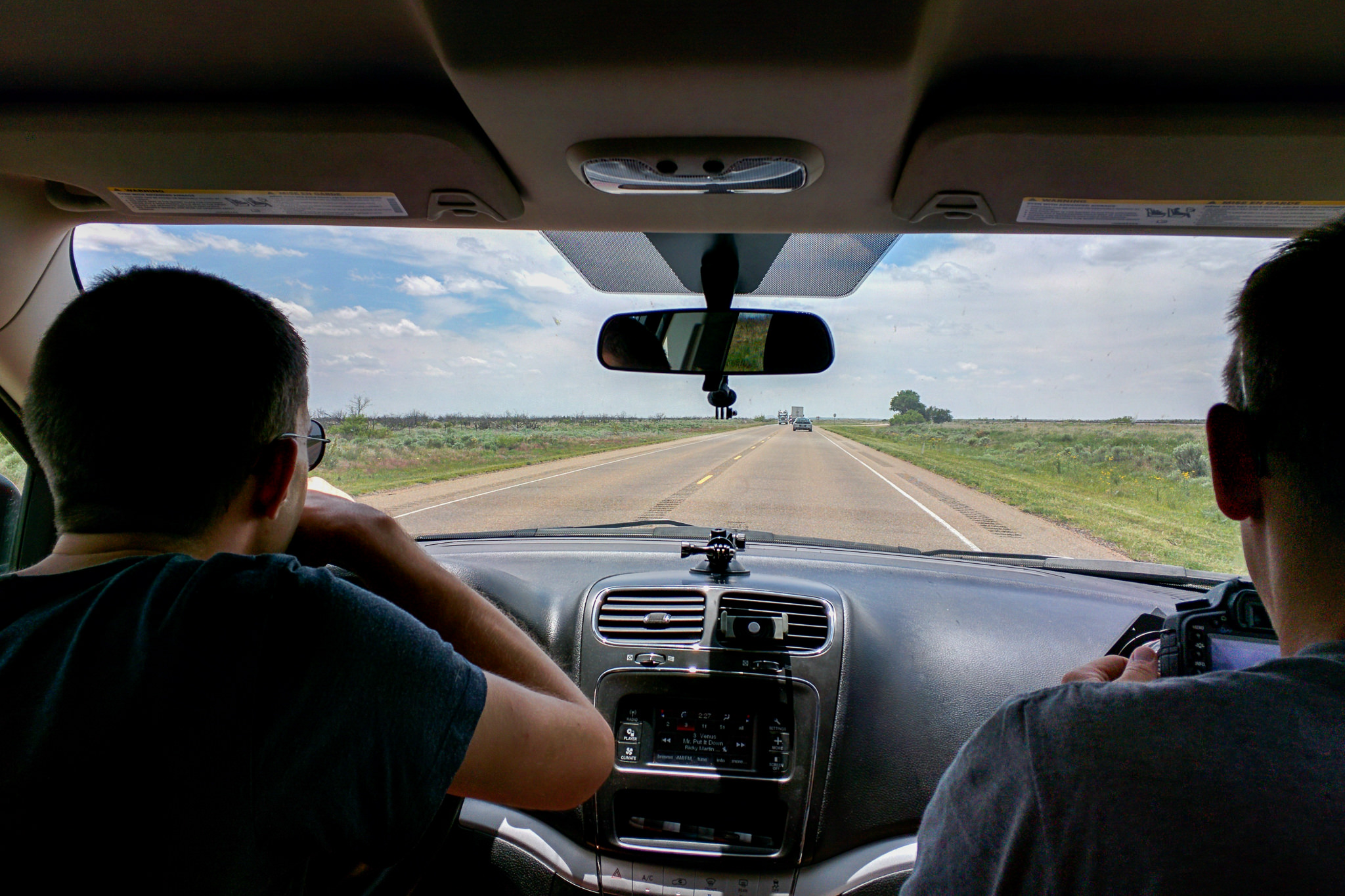 Looking for towering cumulus clouds. View from the backseat (c) Karsten Haustein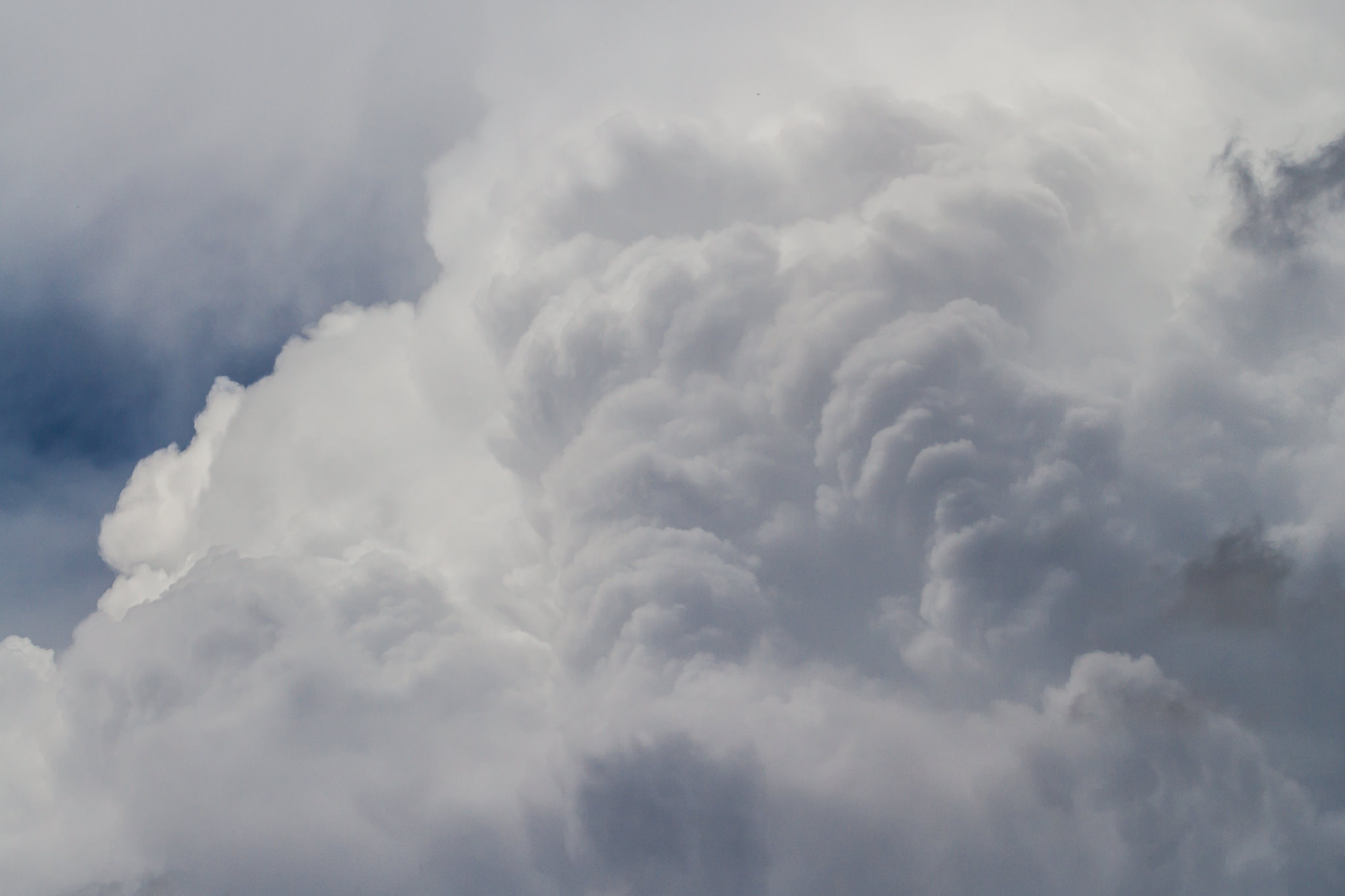 3:24 pm. Well, that escalated quickly. Nah – just kidding. This is a tele photo of a Cumulus congestus growing next to Tucumcari, NM.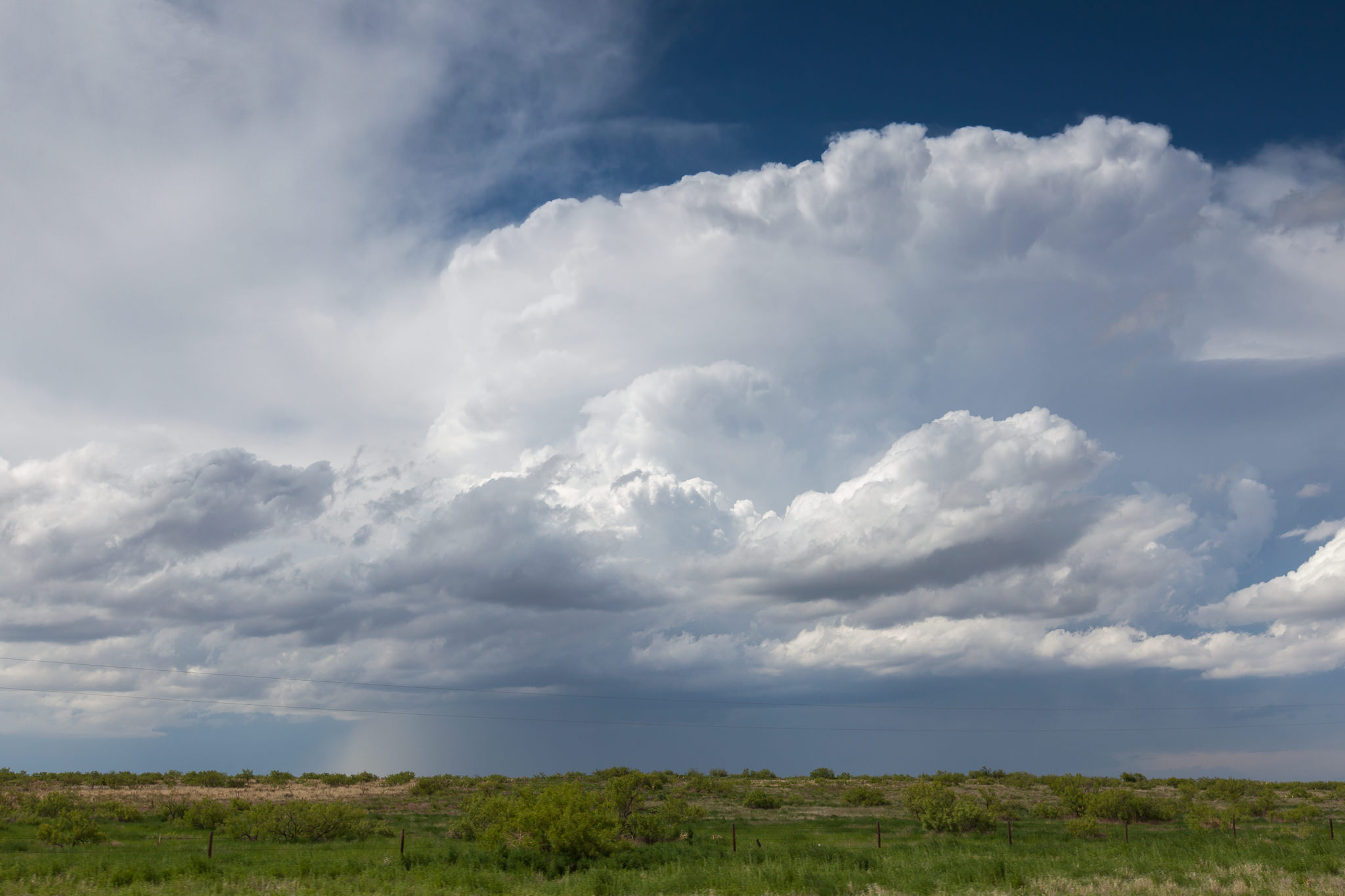 3:37 pm. It became a Cumulonimbus and brought some hail northwest of the town.
4:09 pm. Somewhere in Quay County. Besides that t-storm near Tucumcari we are standing under some new developing cells.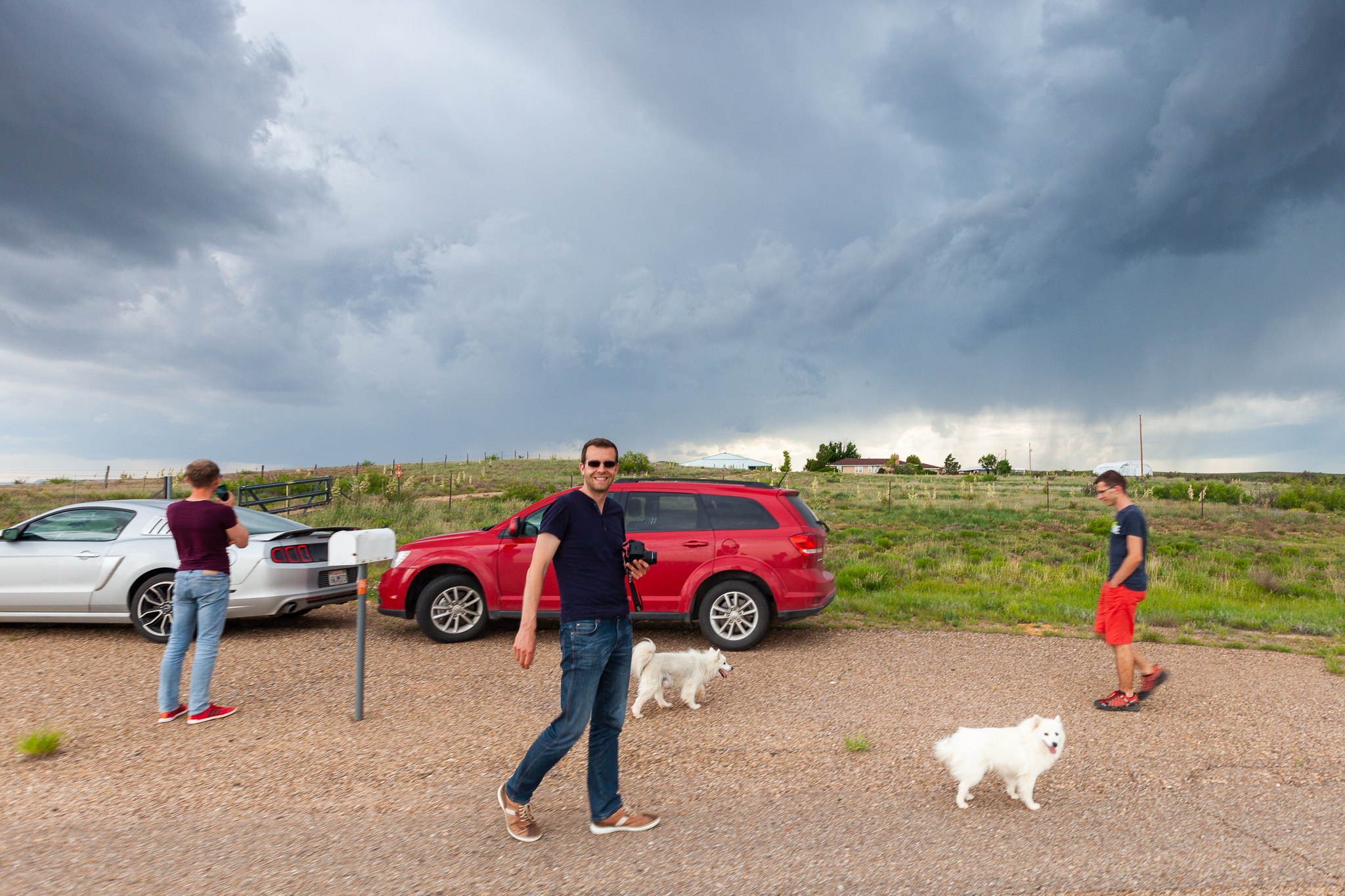 4:11 pm. Making new friends: the dogs of the ranch owner came by as we looked through our options at the sky.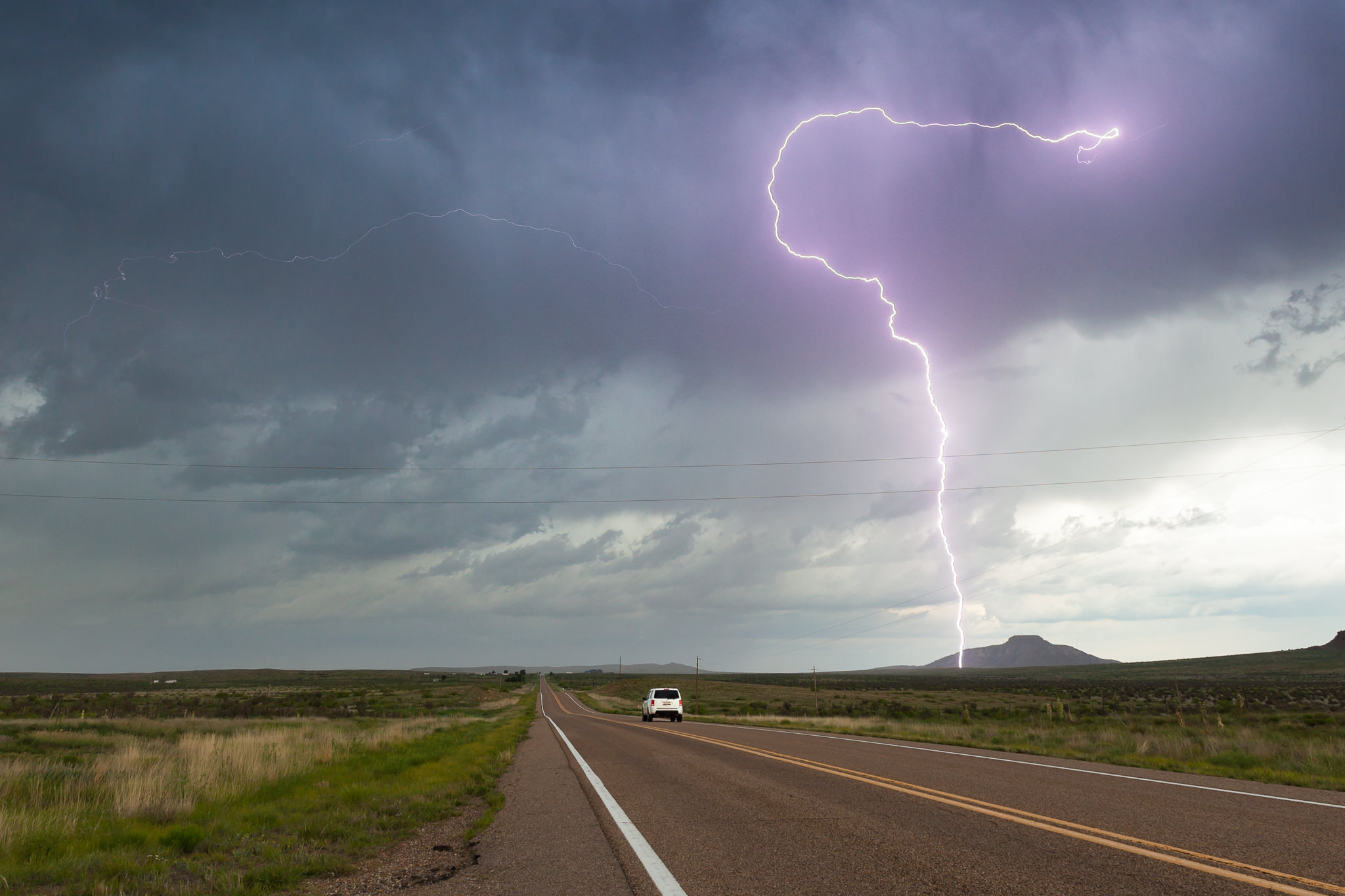 4:23 pm. Well, even if the rain evaporates before reaching the ground… a thunderstorm is a thunderstorm and potentially deadly. This lightning strike occured while we were chatting with another chaser who was struggeling with one of the ranch dogs in his car's legroom – LOL.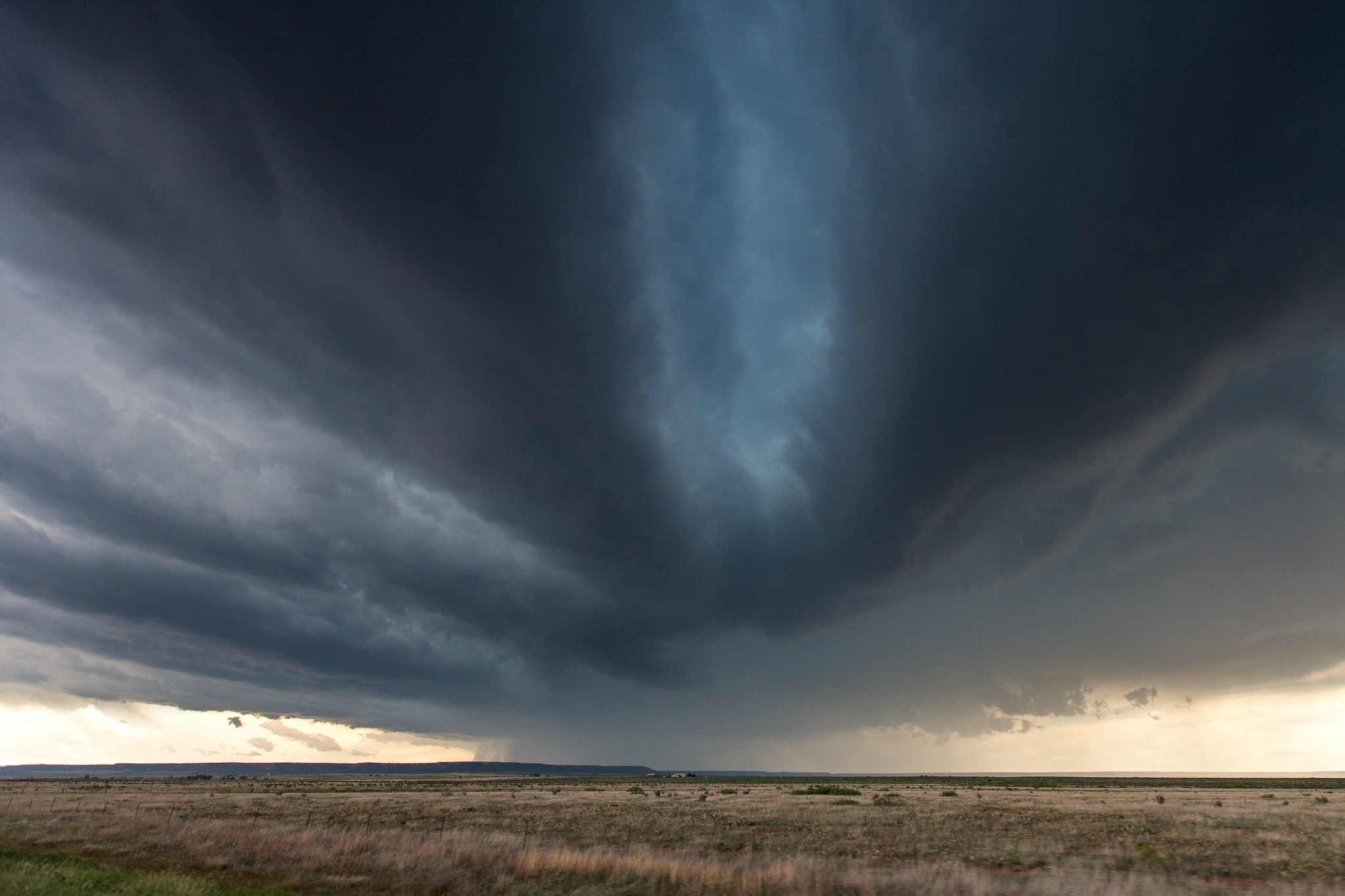 4:42 pm. We decided to go further to the south approximating a new, fast developing cell.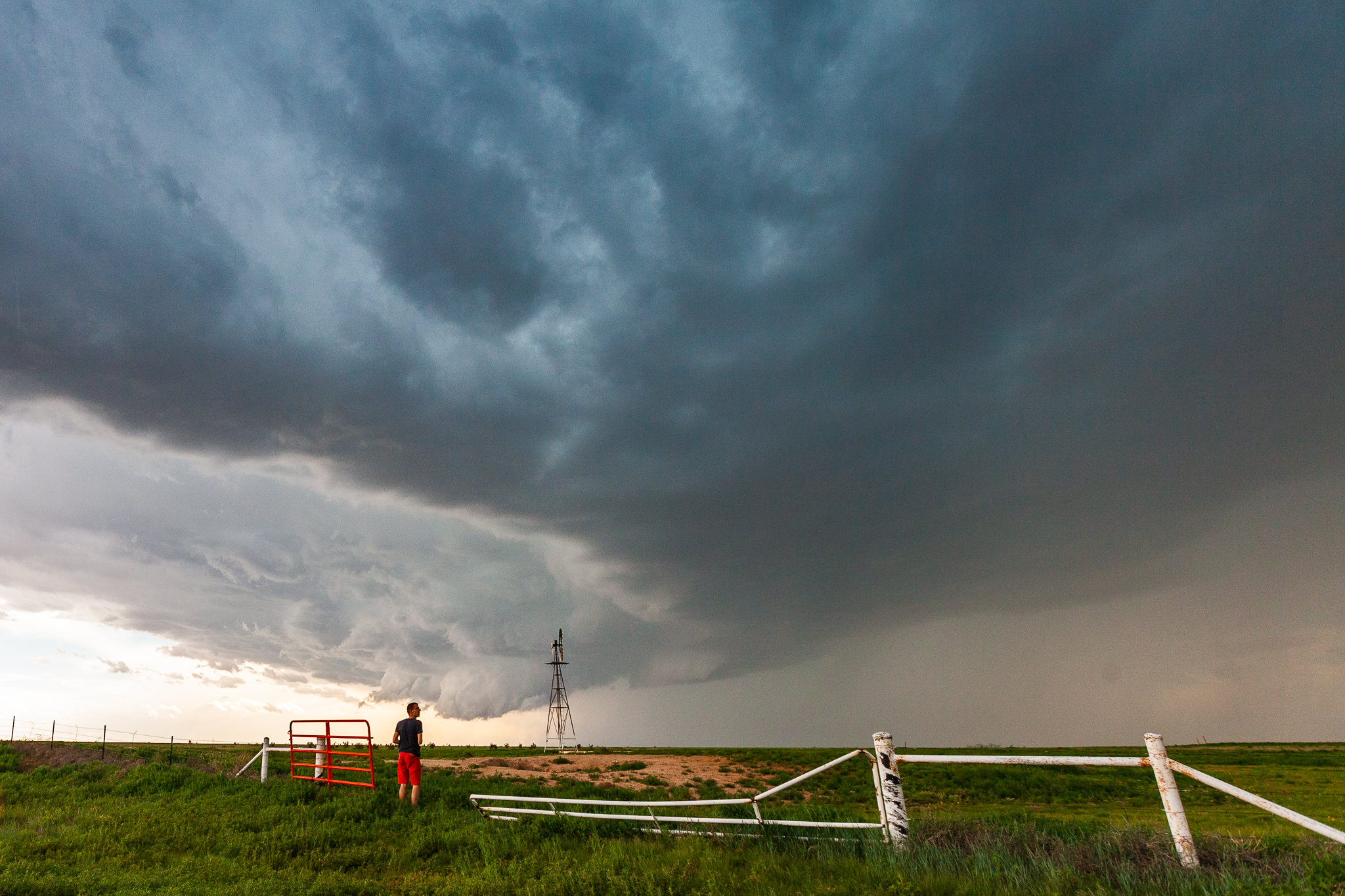 4:54 pm. Markus watching the distinct structure of the cell near McAlister, NM.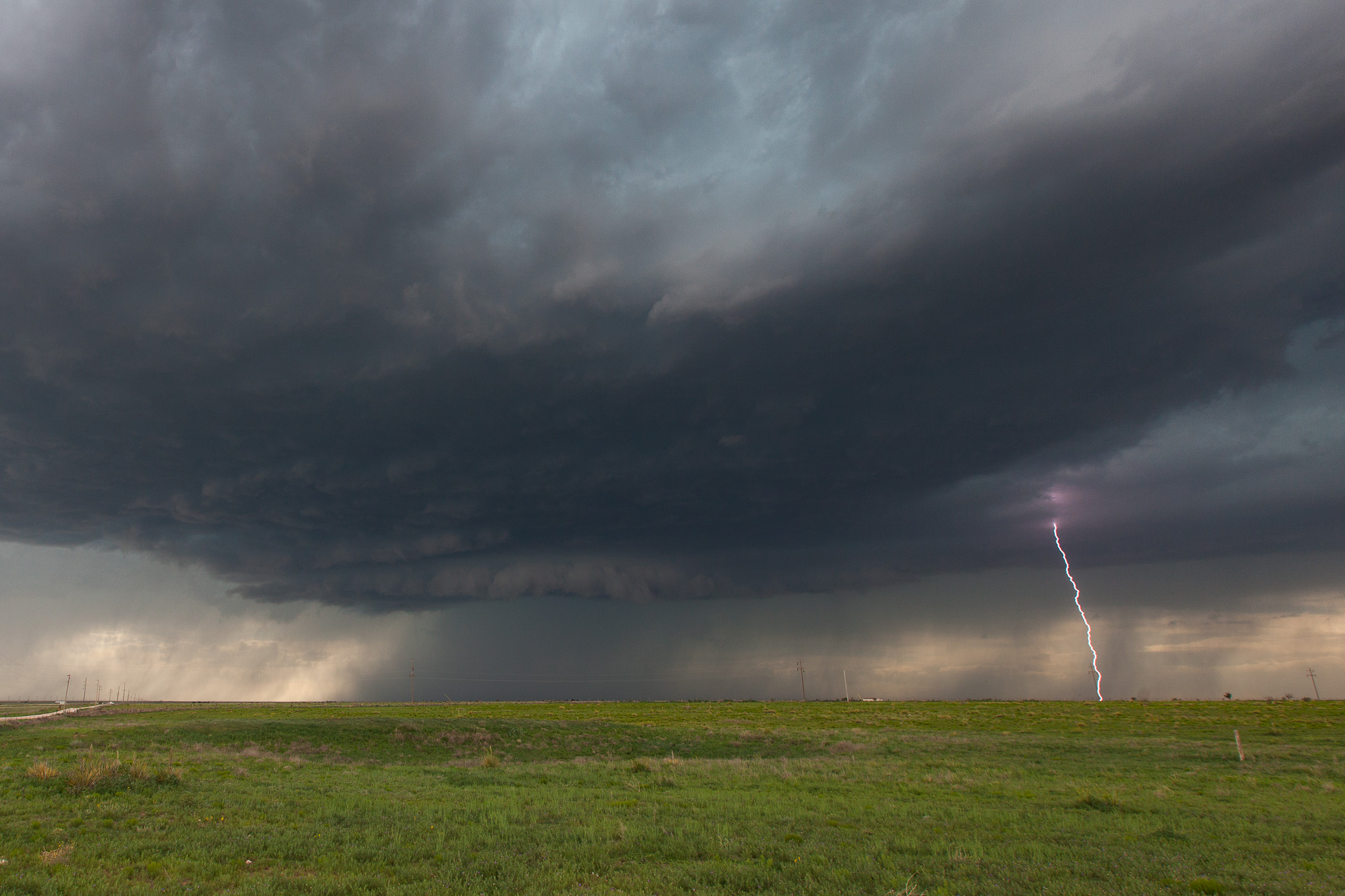 5:33 pm. We succeded in overtaking the cell. Viewing direction: W/NW on the cell's updraft region which looked quite crispy.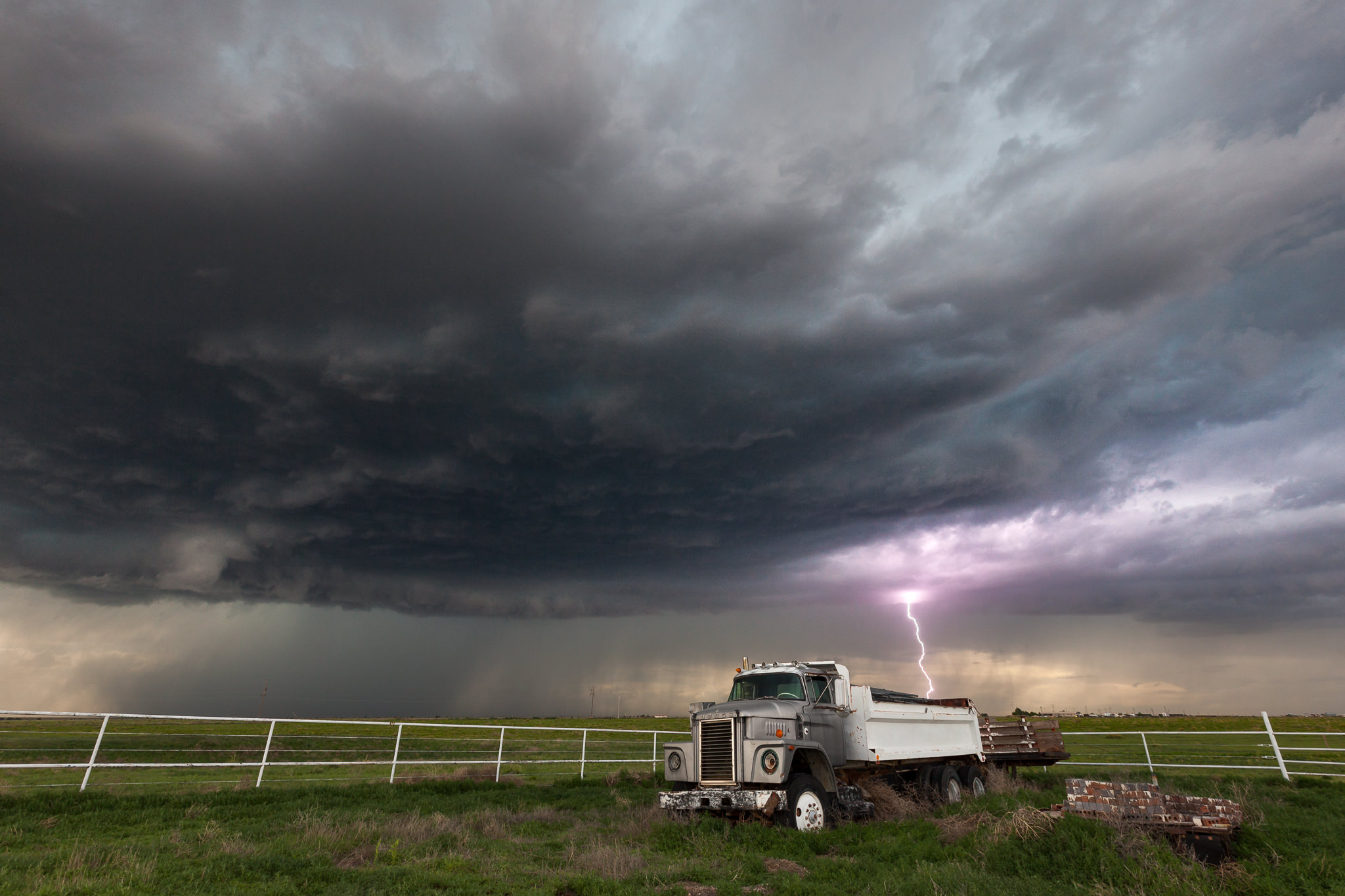 5:36 pm. With several cg-lightnings the cell came closer.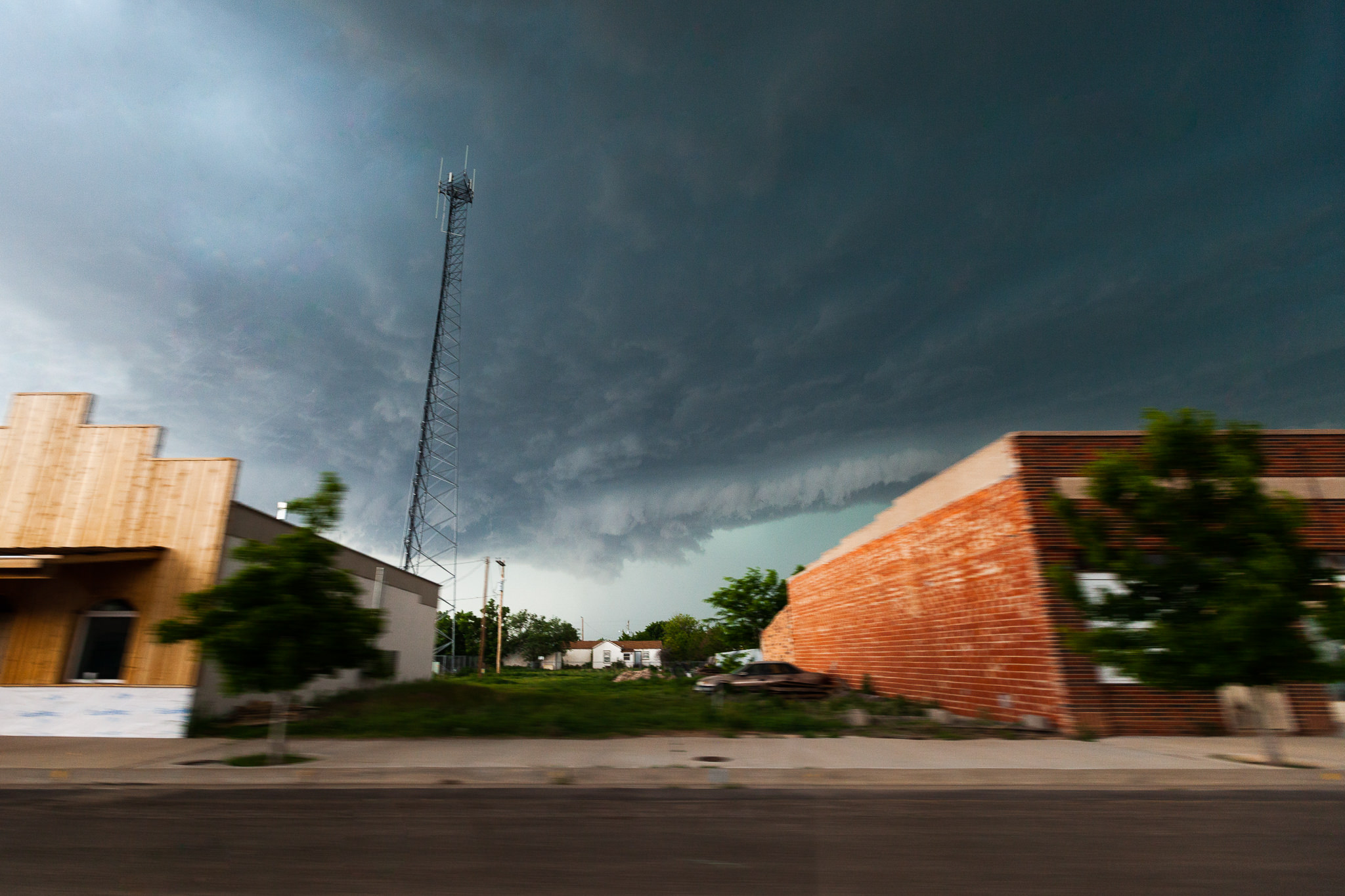 5:43 pm. Repositioning. Driving through Melrose, NM. The mood outside was impressive as the cell reached its peak.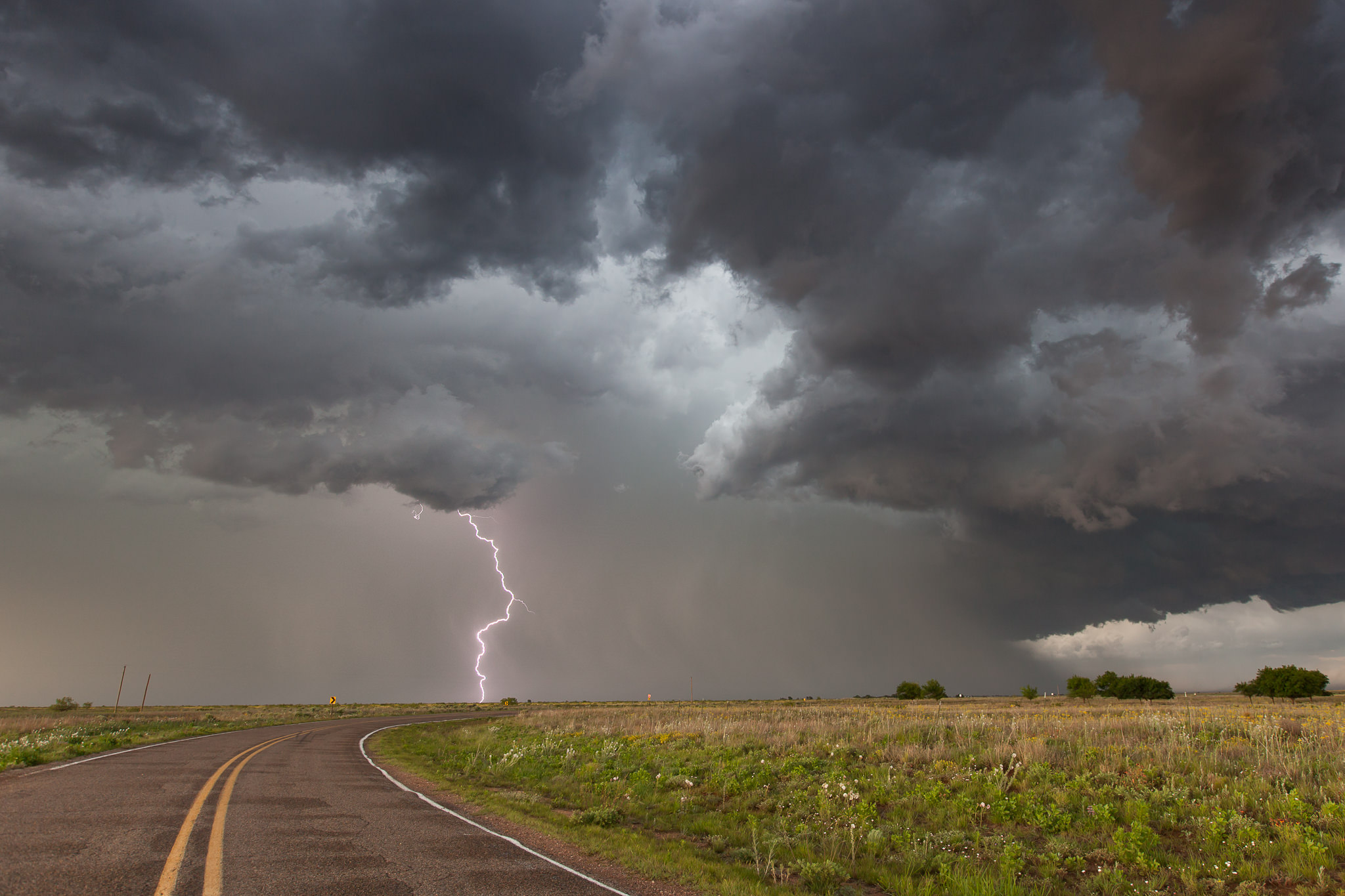 6:21 pm. Following and watching that storm a while it finally became outflow dominant.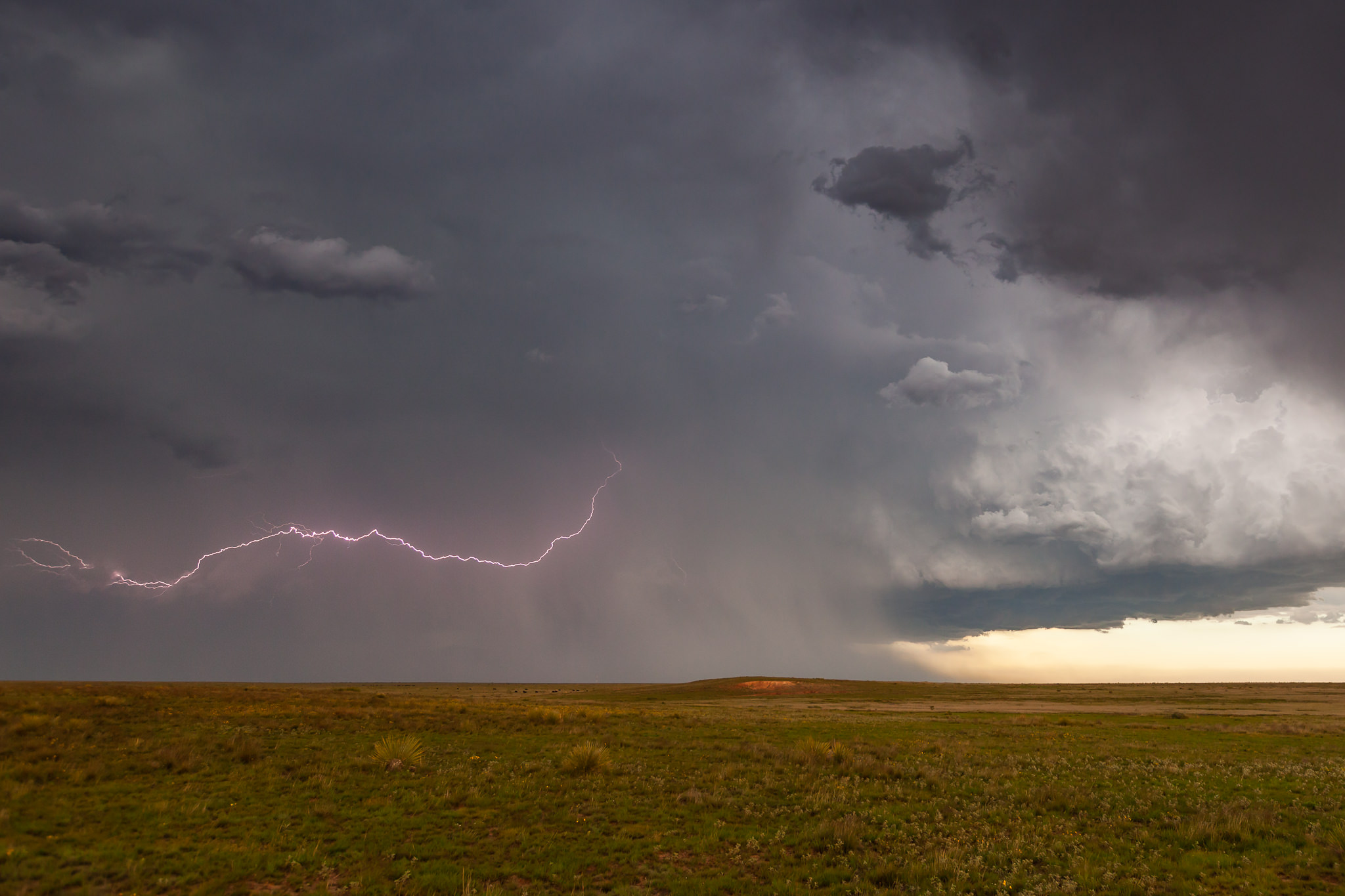 6:37 pm. But… there was a strong new cell to our south. Now we had to be quick. In order to reach the leading edge we had to overtake this one aswell.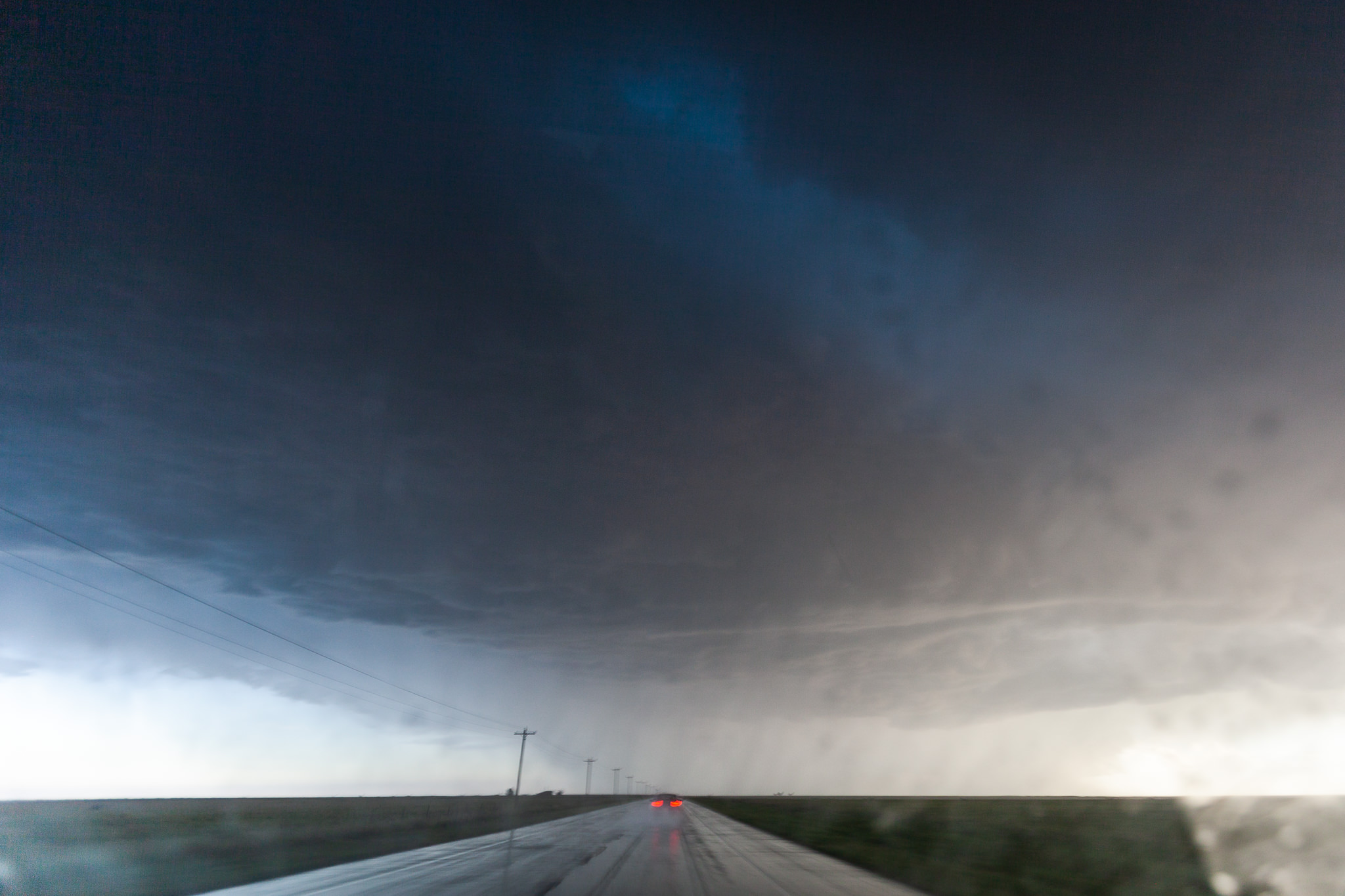 7:15 pm. During an intense corepunch our mates discussed wether to break up or … through. Karsten encouraged us to go further which led to a drive under the hail shaft. Luckily the hail stones were just about two centimeters in diameter.
7:17 pm. After leaving the hail behind us we drove directly under the updraft and the »interesting« part of the supercell when it comes to tornadoes.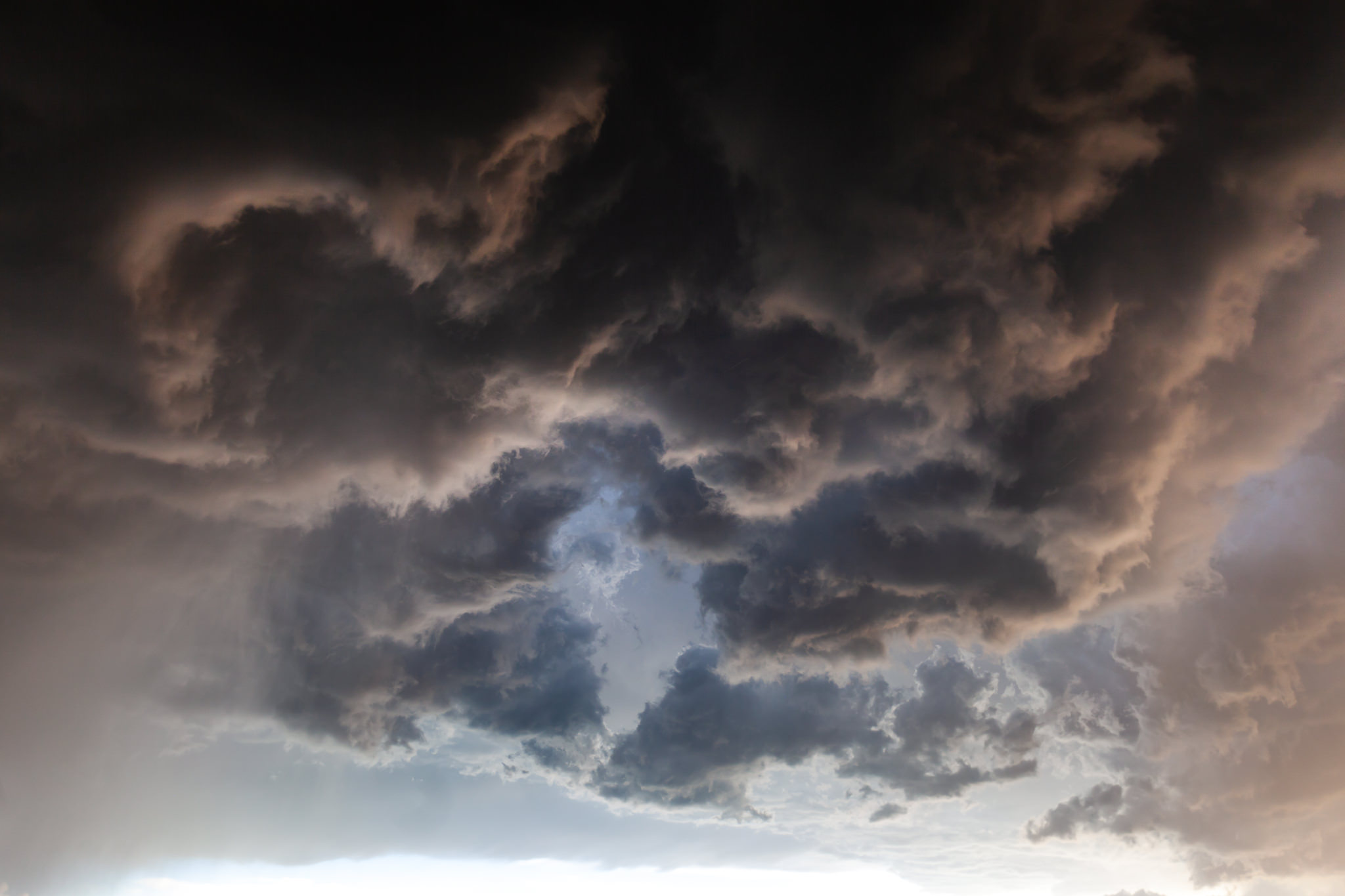 7:19 pm. Looking straight upward. I'd never seen anything like this before. The motion of the clouds was fast and turbulent. We've been exactly under the rotation.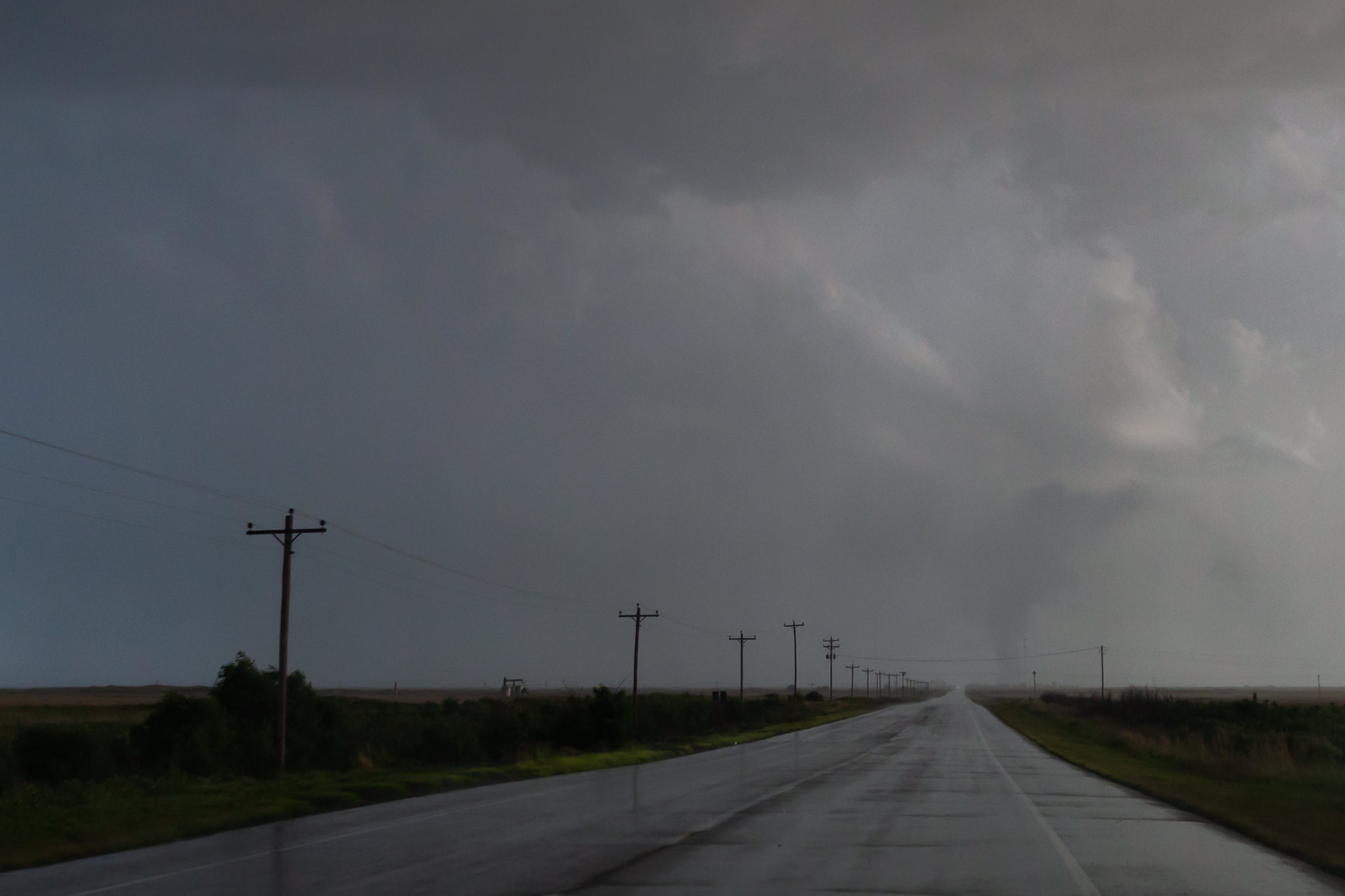 7:21 pm. Wait. What's this to our south?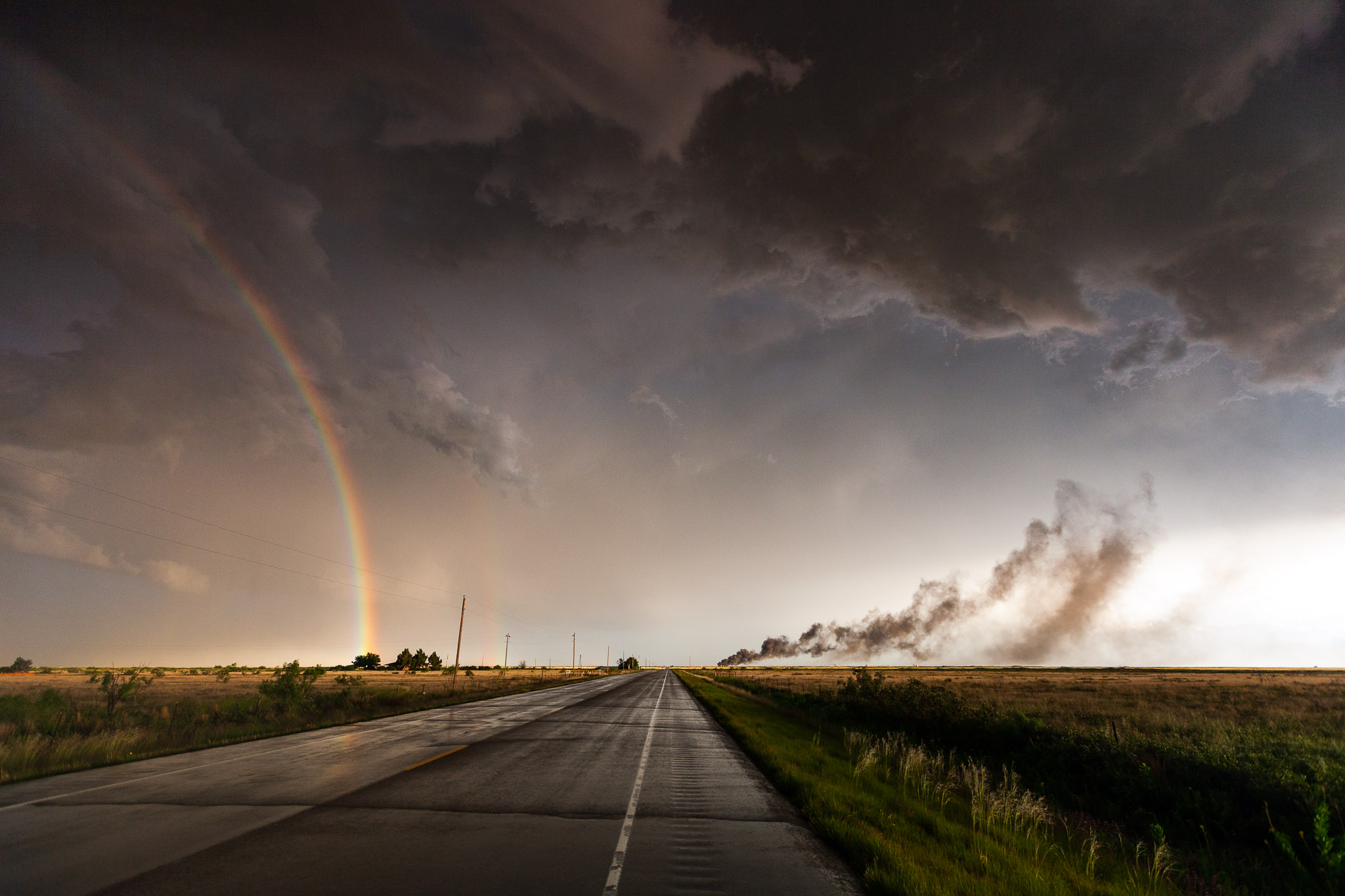 7:30 pm. Oh my – it's a burning oil production site. Maybe a lightning striked there.
7:30 pm. 25 minutes before sunset and the light went gorgeous.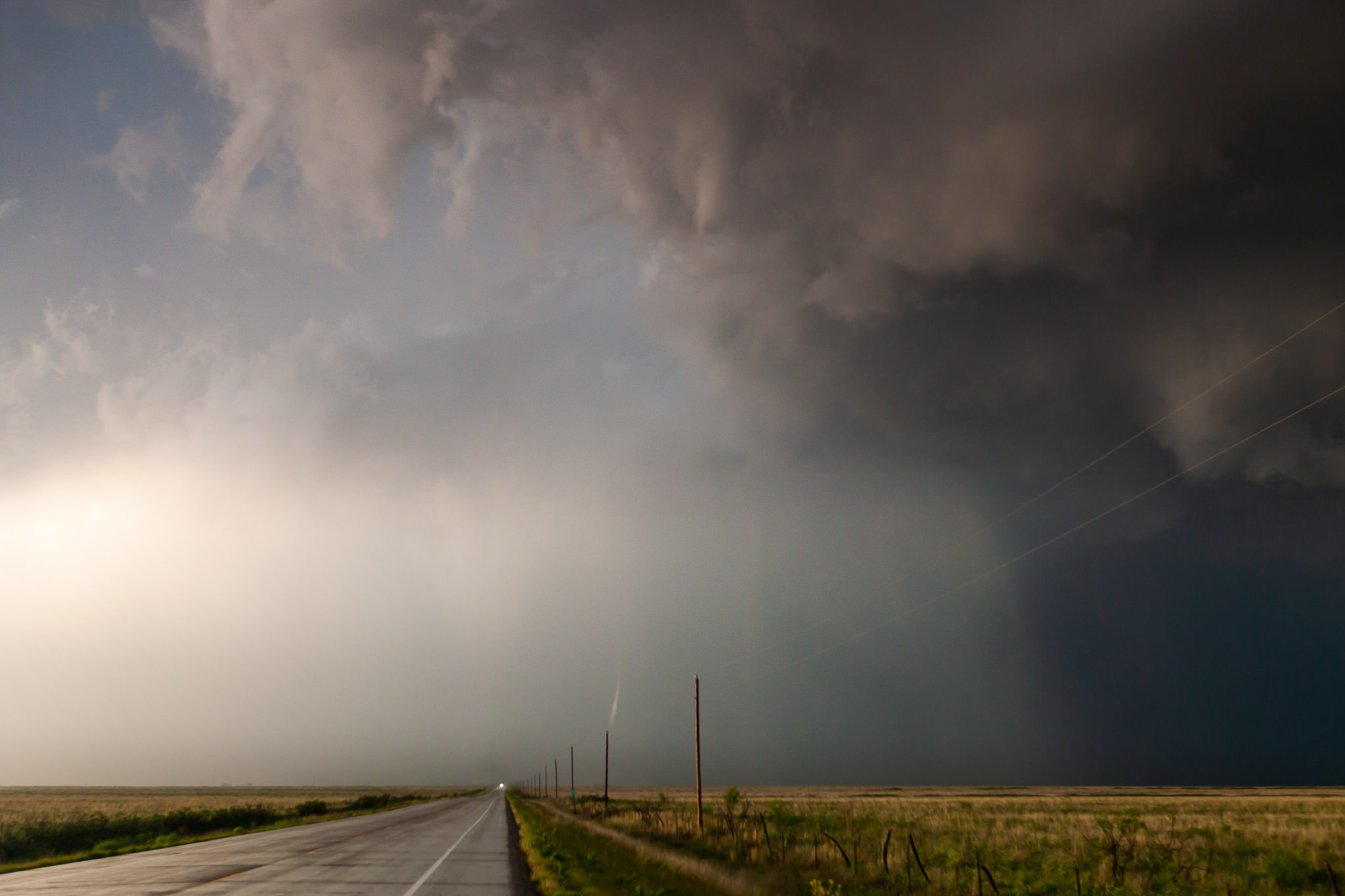 7:30 pm. Again. WHAT'S THAT? There's a tiny condensed funnel over the power pole. Do you recognized where it belongs to?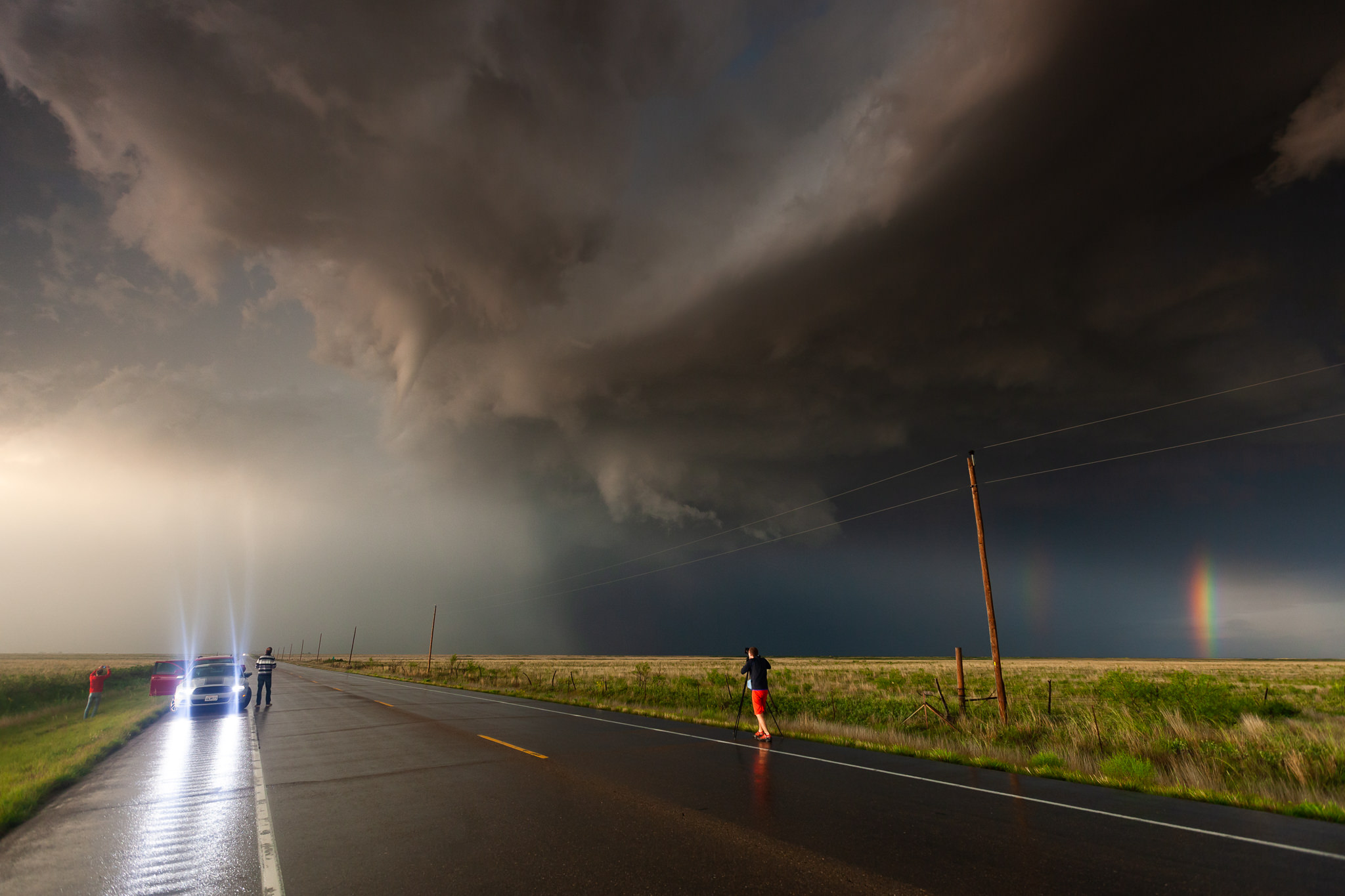 7:31 pm. Now we're more than focussed. The whole updraft region seemed to wrap around that tiny funnelcloud.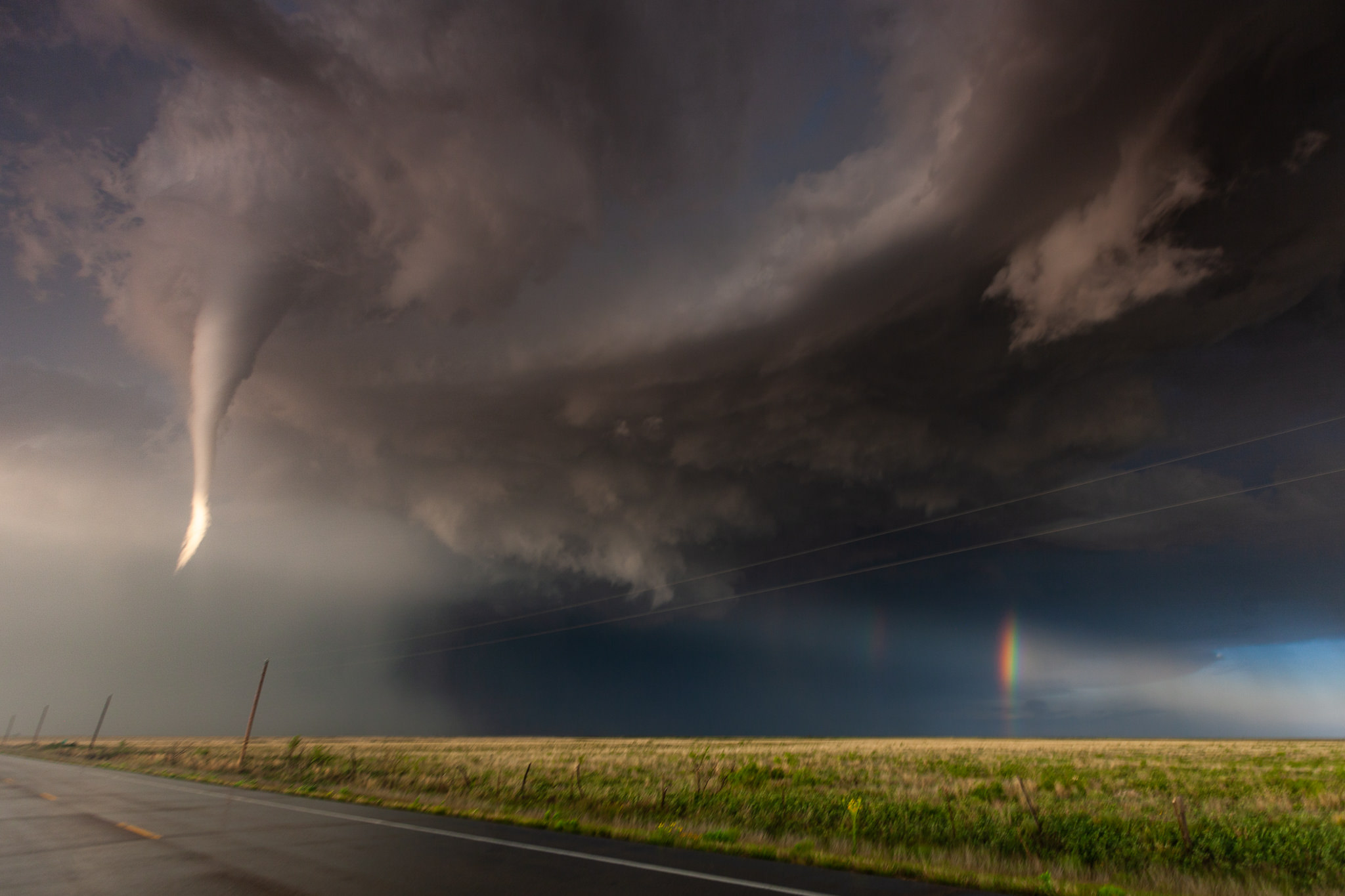 7:31 pm. Tiny? Majestically the funnelcloud continued to condense.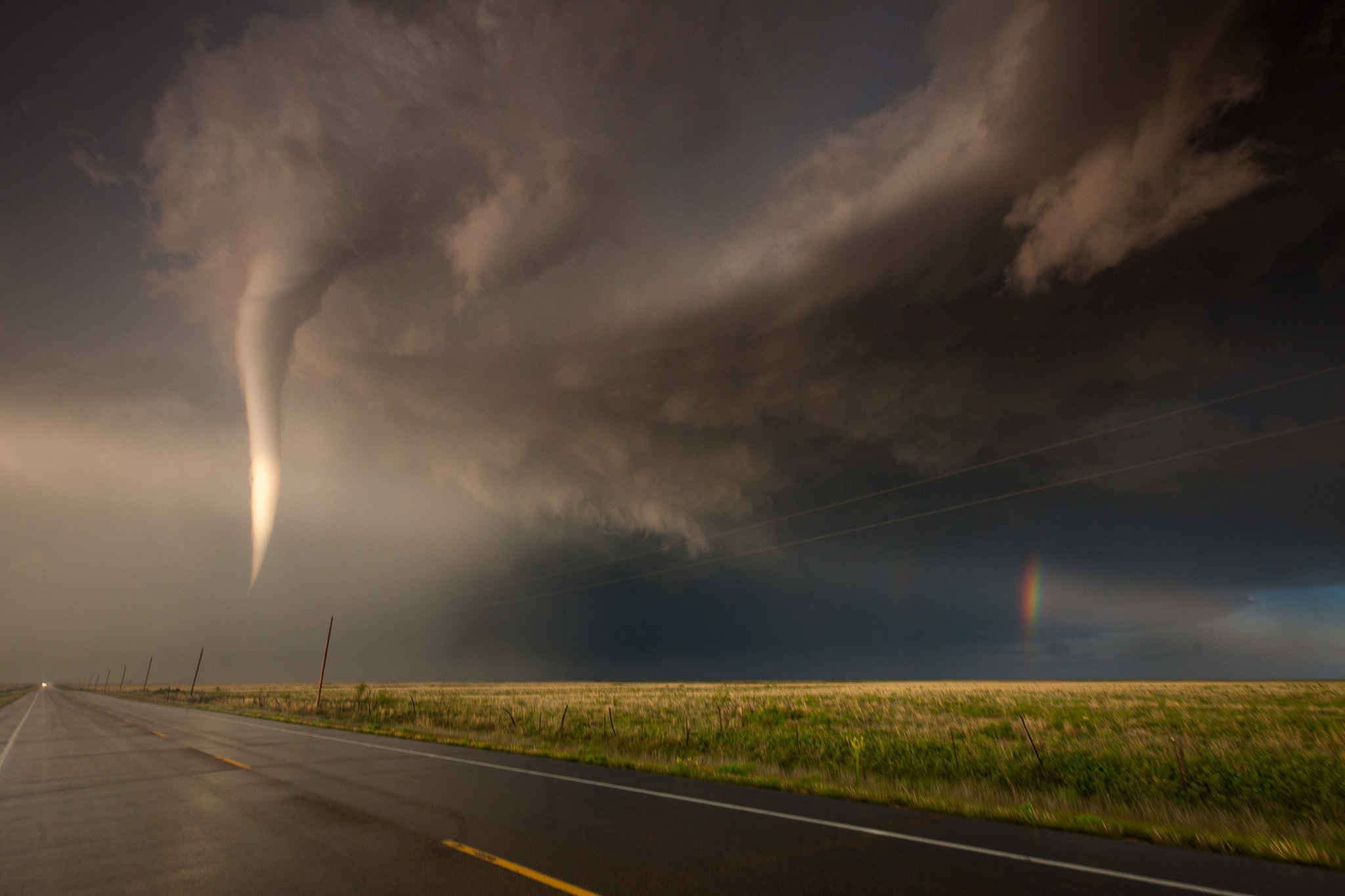 7:32 pm. We couldn't believe our eyes. While the sun stood close above the horizon a sunbeam illuminated the cone drawing als a fragment of the rainbow to the right.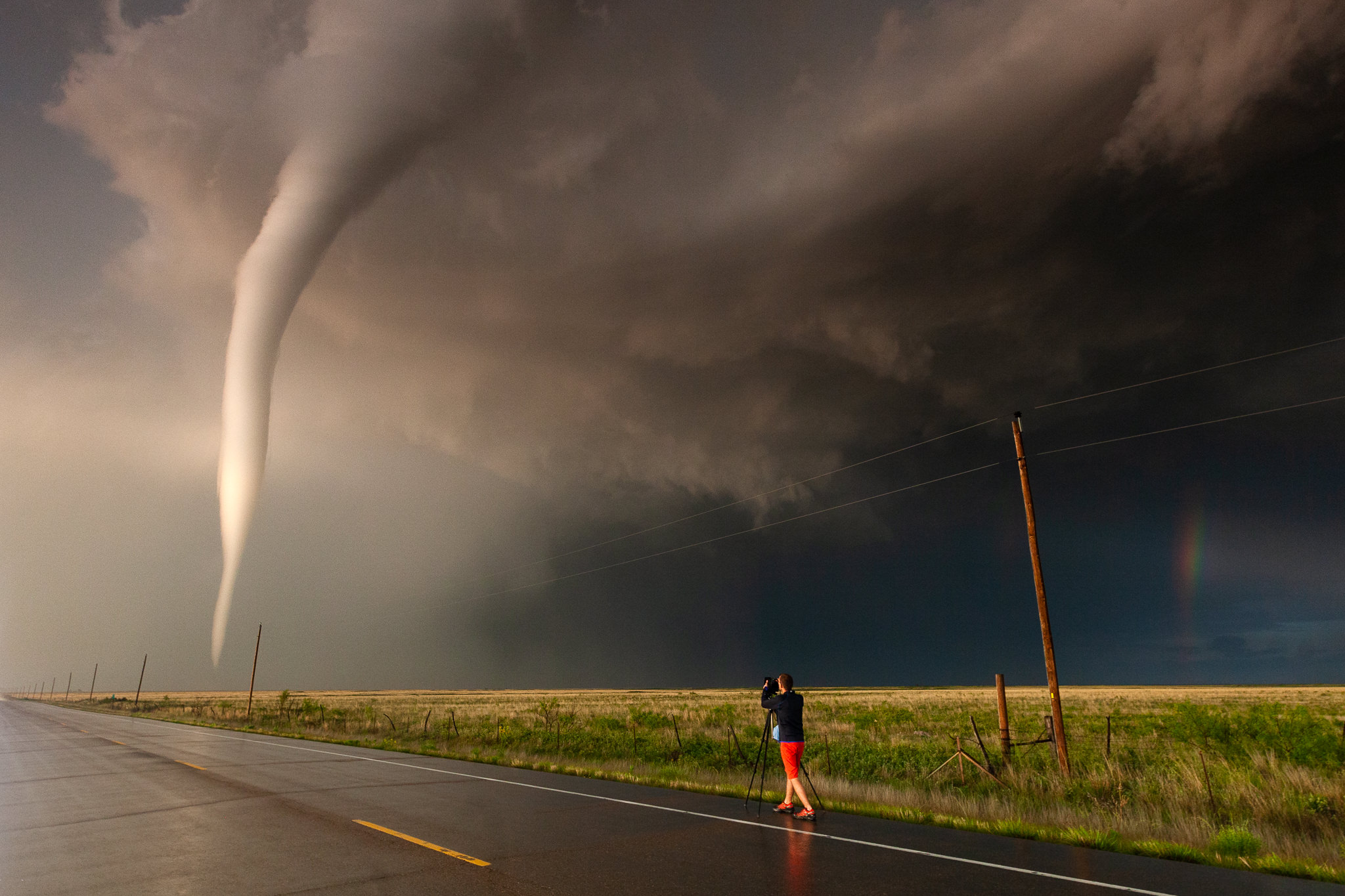 7:32 pm. Touchdown! An so-called elephant trunk tornado infront of Markus.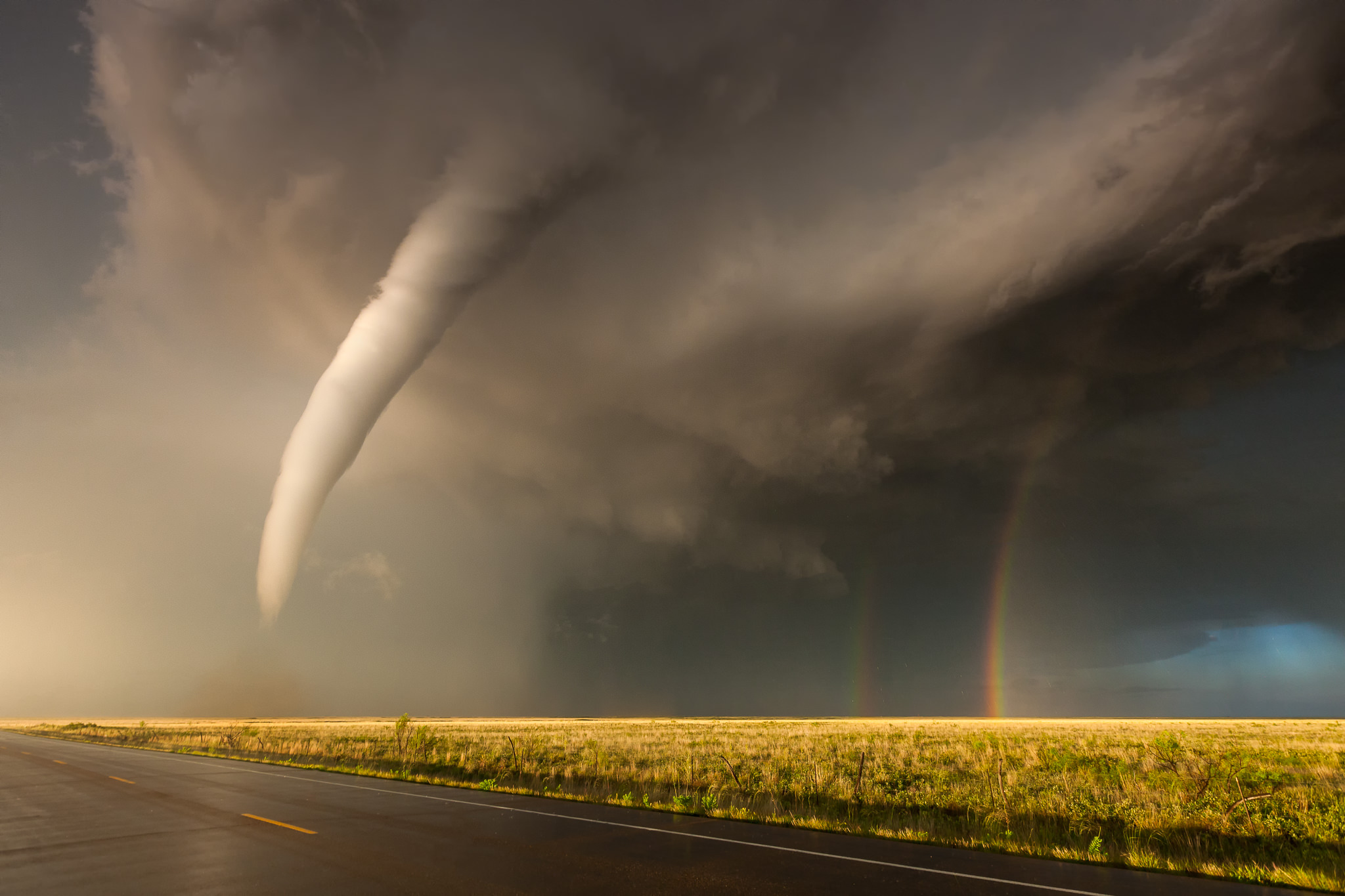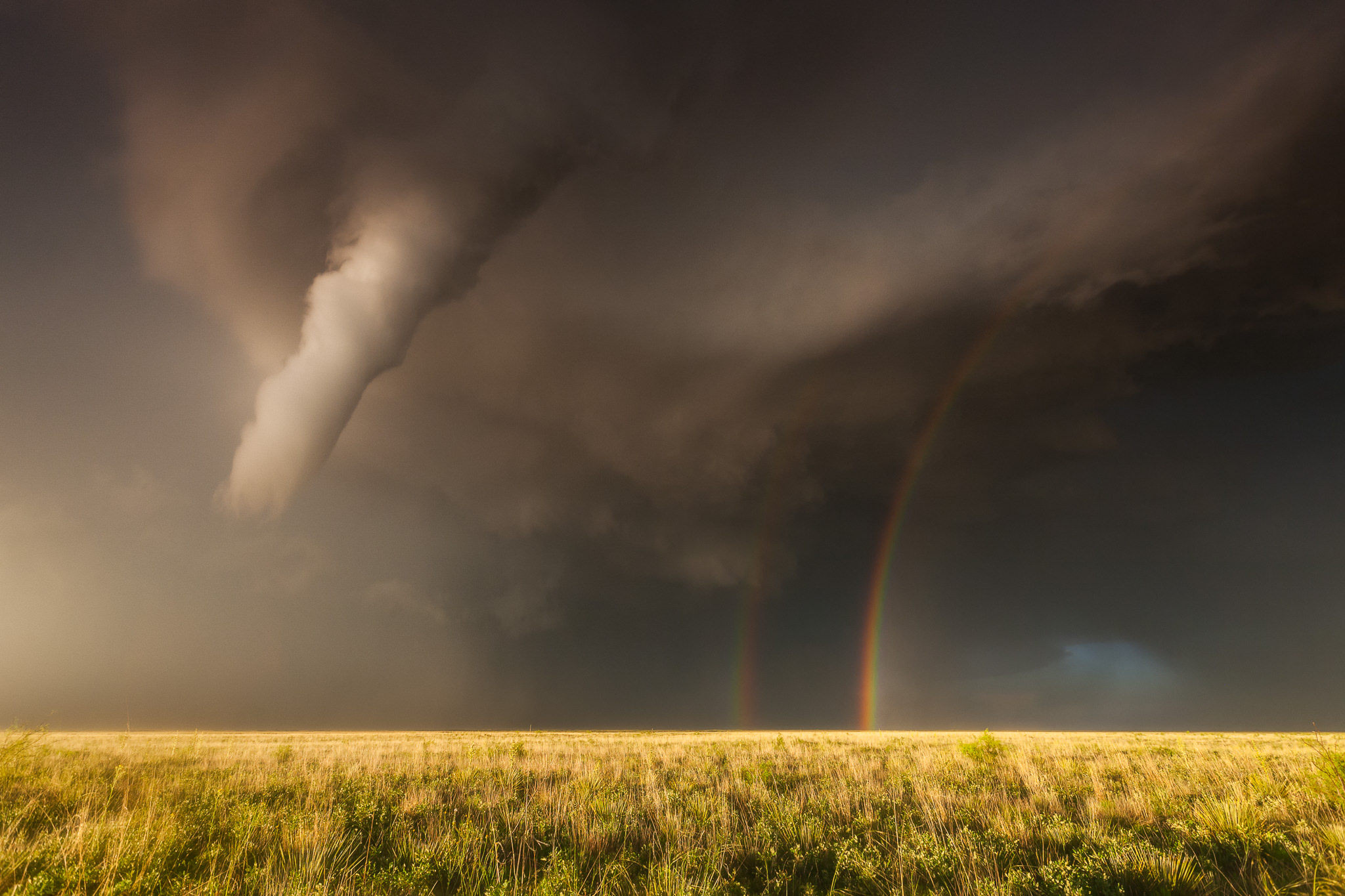 7:34 pm. The slowly rotating tornado lifted again. 16mm fullframe image. Now he was closer than a mile. We went a little bit further south.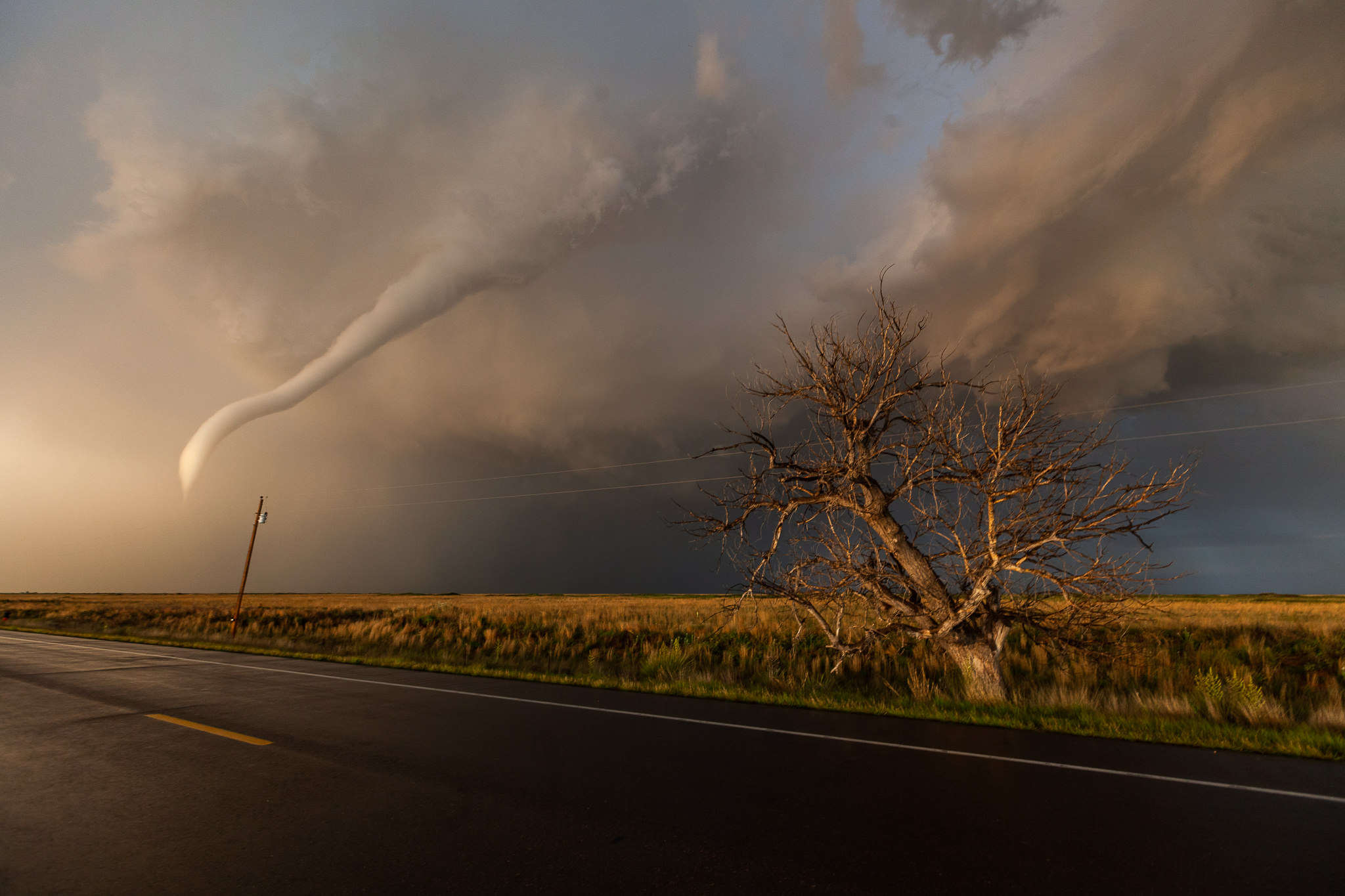 7:36 pm. The rotation visibly was weakening now.
7:39 pm. But a second touchdown happened a few minutes later.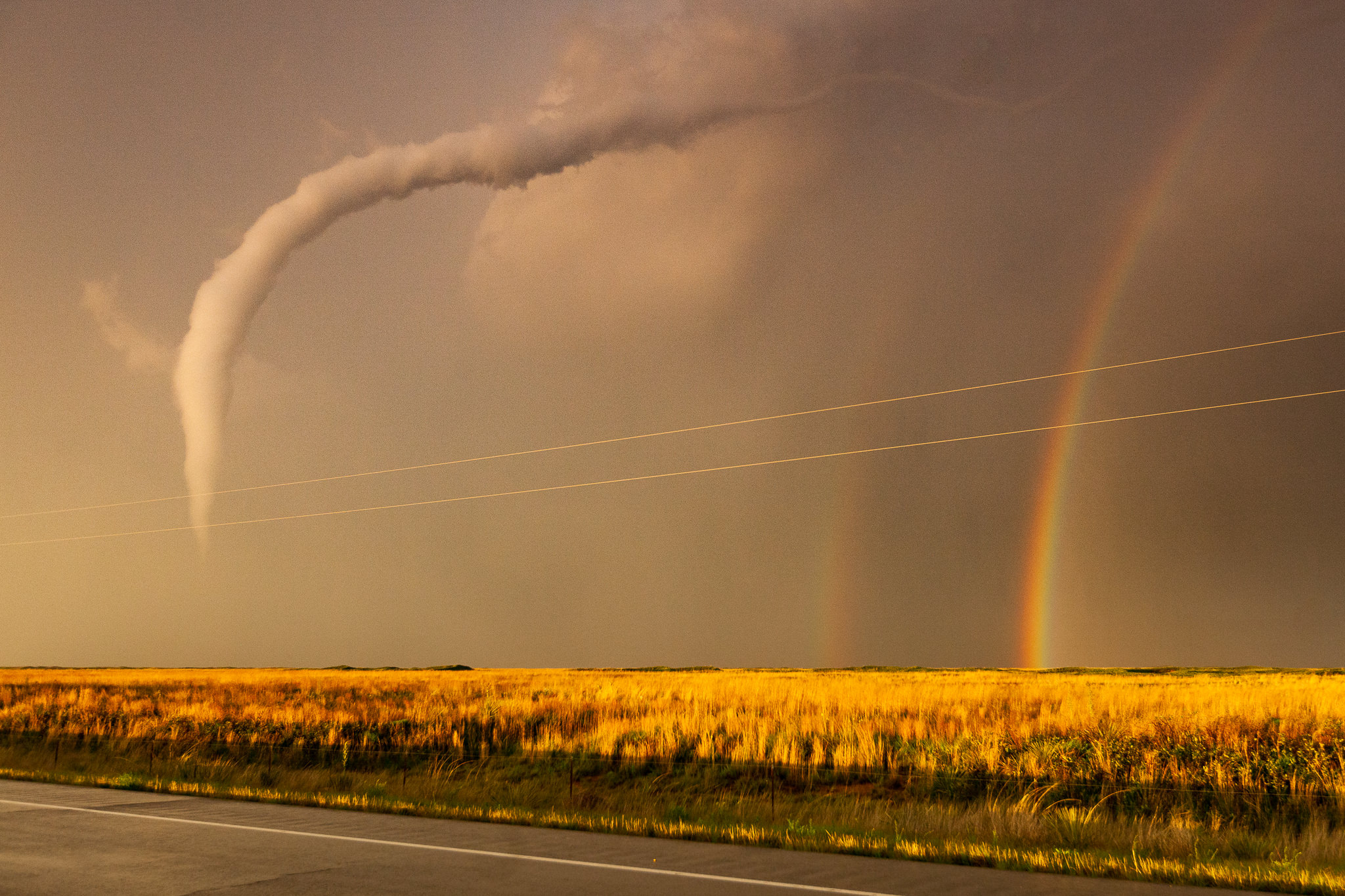 7:41 pm. The tornado finally went into the roping out stadium. Shortly after he was gone. 10 minutes of pure joy.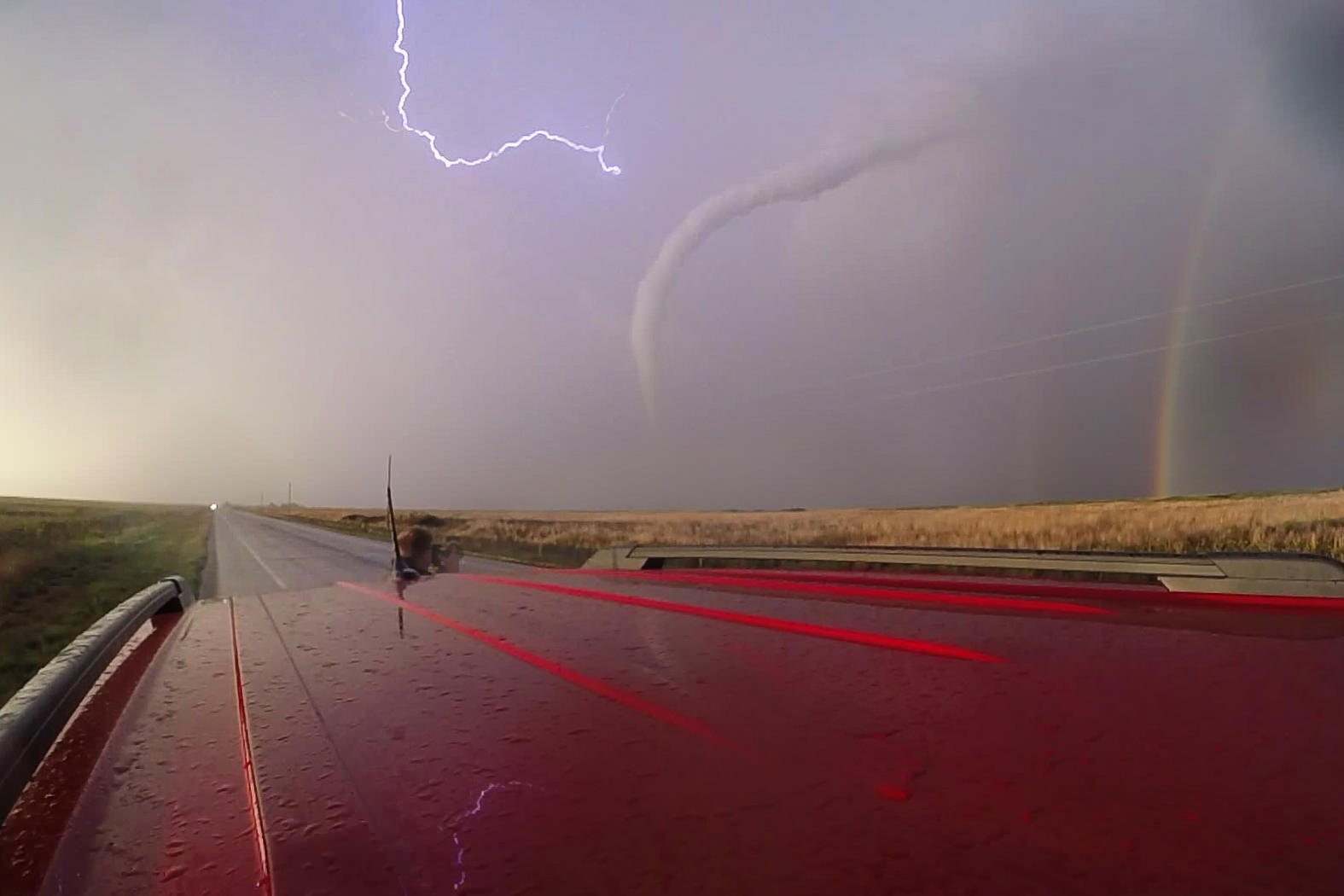 See the realtime and timelapse footage by Markus, Stefan and me: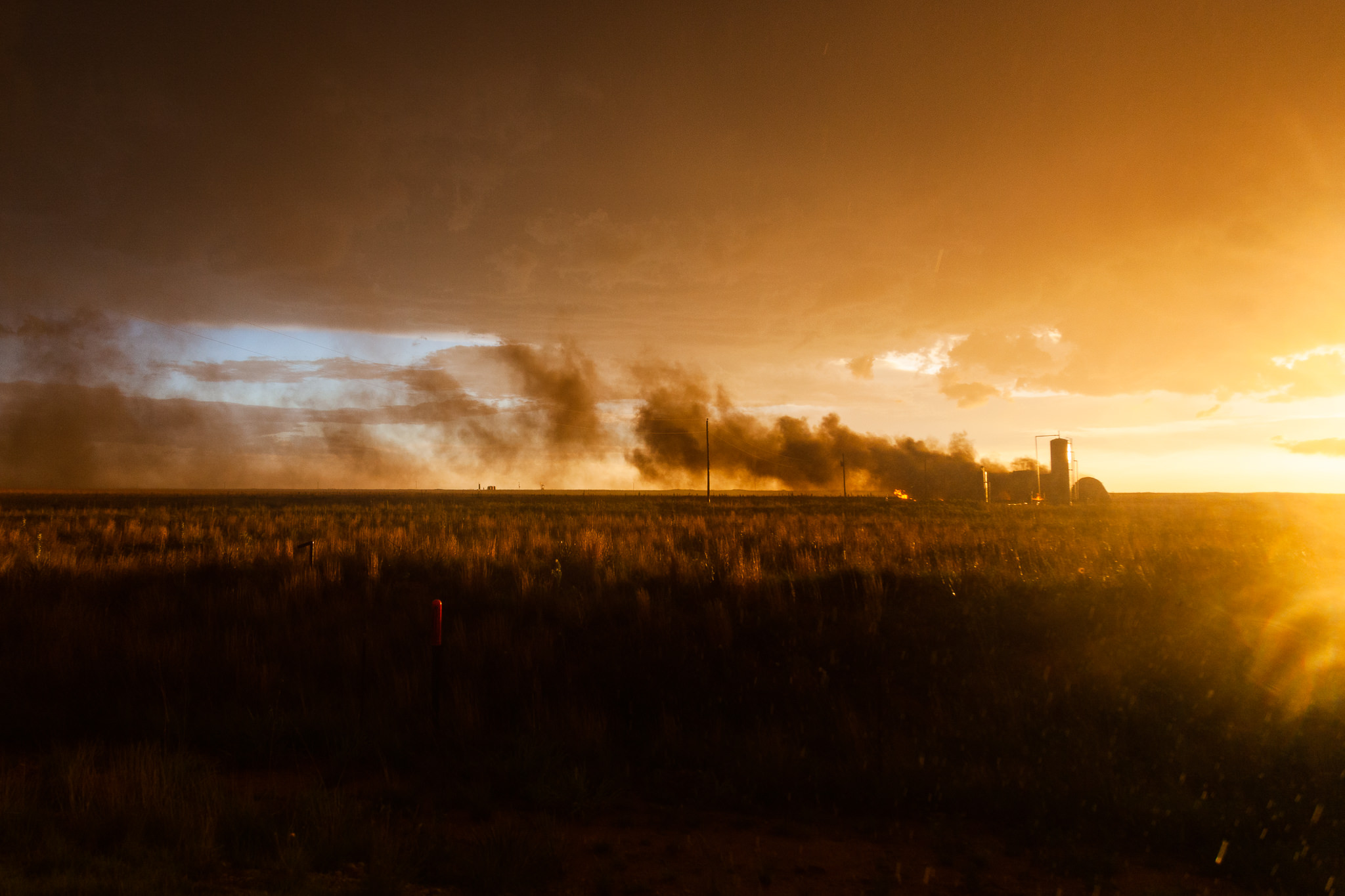 7:43 pm. After the encounter we drove by the burning oil tanks.
7:43 pm. Saw one of the brightest rainbows in my life.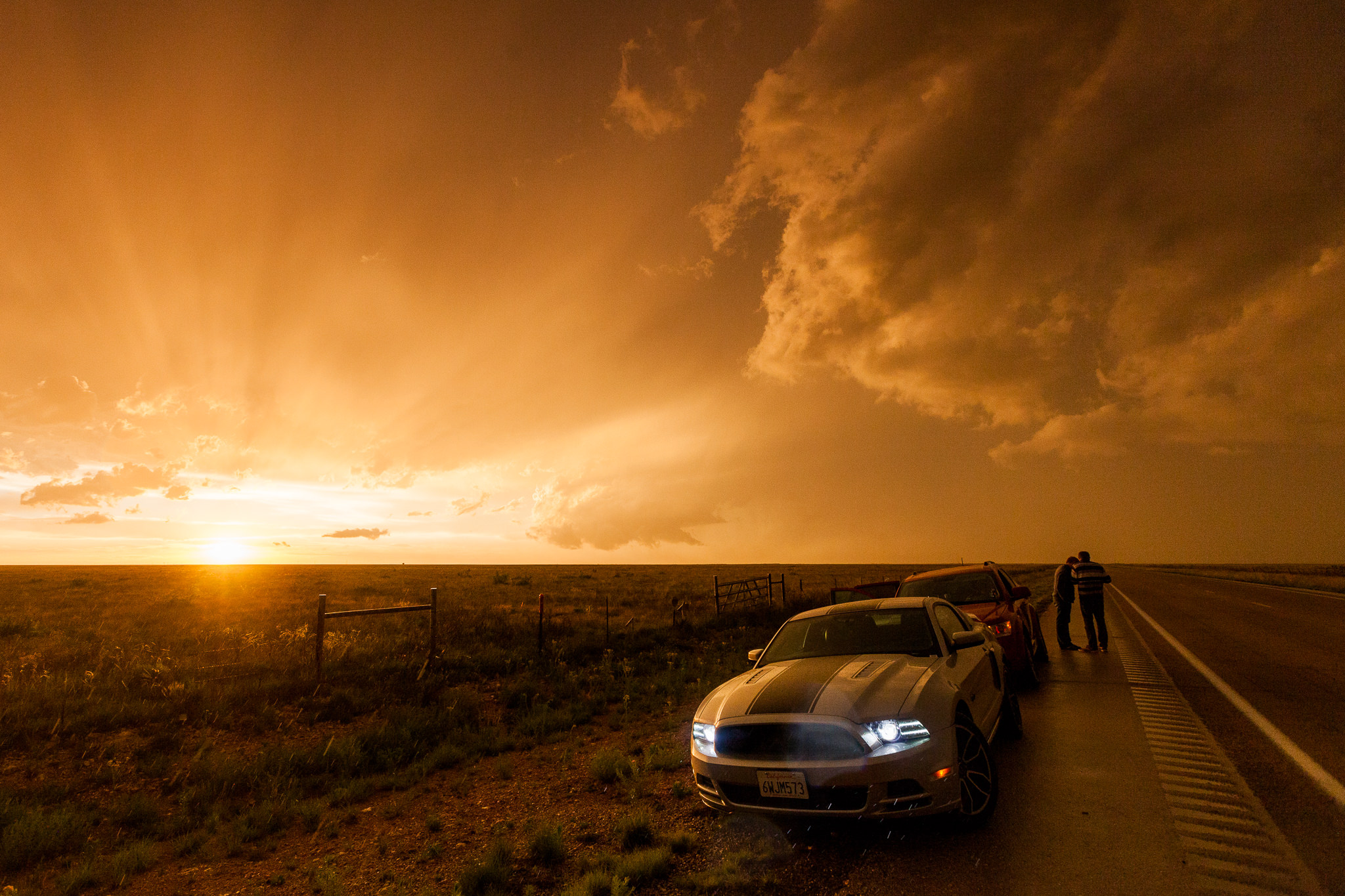 7:47 pm. And a marvellous sunset.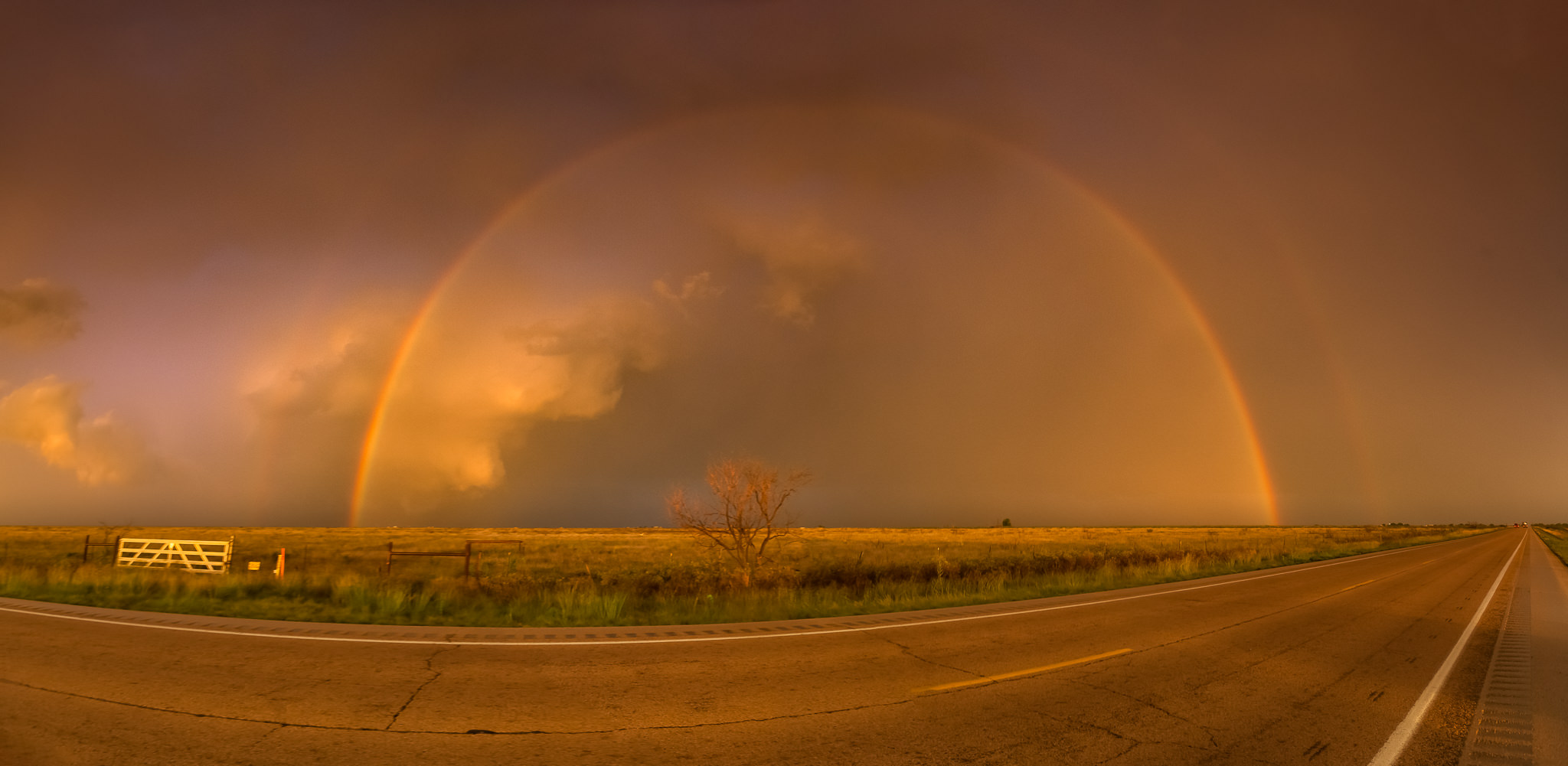 7:49 pm. While our tornadic supercell …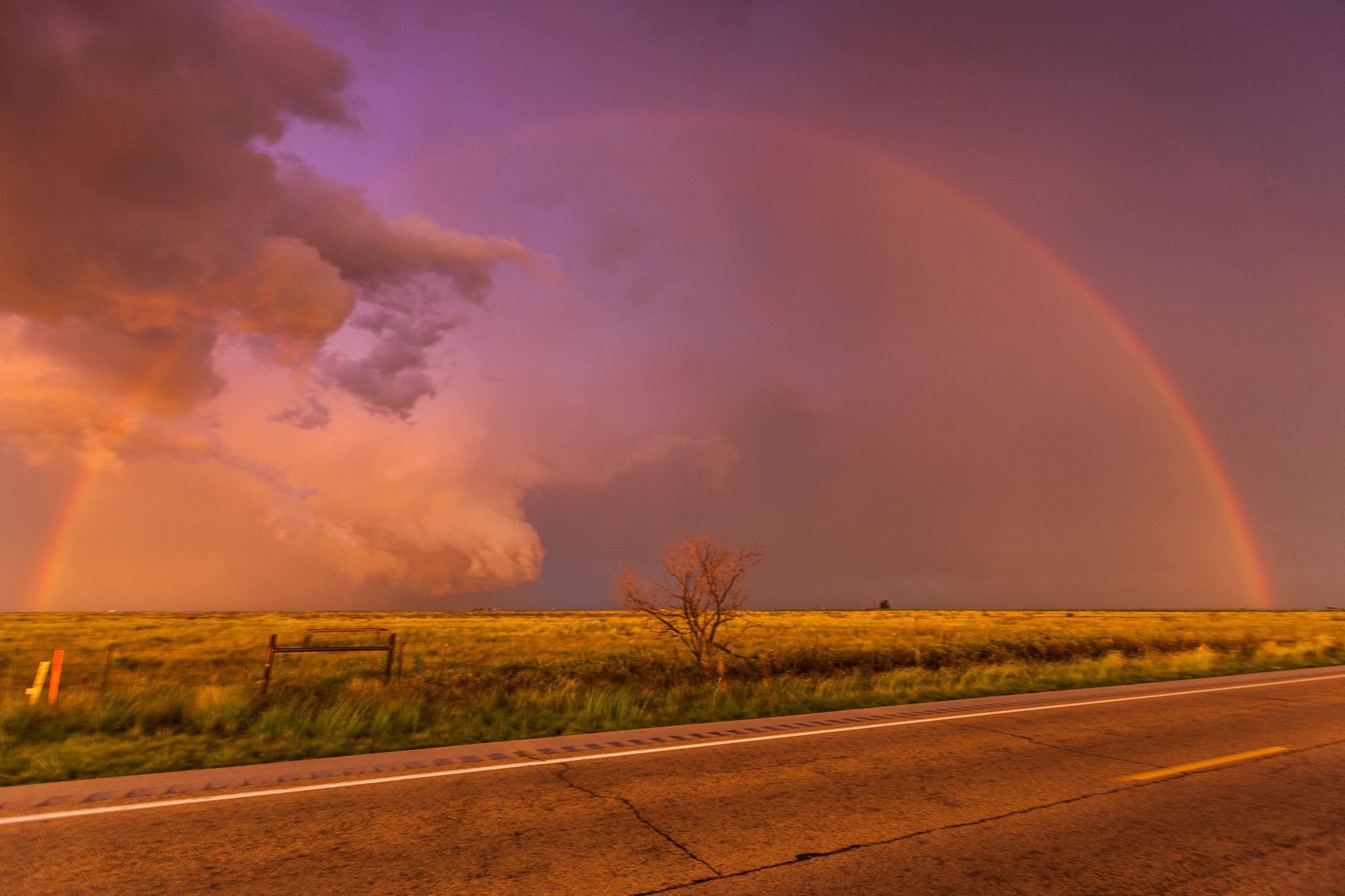 … moved on under the rainbow with frequent sheet lightning.
Since this day my perception of how beautiful and desirous weather can be reached a whole new level. Janek's forecast and Karsten's progressive chase led to an unforgettable experience. We'd seen what the majority of storm chasers – even the locals – dream for: a beautifully illuminated, well condensed, calm and peacefully rotating prairie tornado – with a double rainbow!